With Autumn hammering on the door, seasonal changes are happening. Likewise it's time to step up the beauty routine to help soothe, nourish and protect our skin against the cold winds and subsequent dry skin heading our way. Whilst exchanging our lighter moisturisers from the summer to a heavier one for autumn/winter may seem adequate, adding some natural extras into our skincare regime can help to nourish, detox and cleanse the skin and keep it healthy and glowing. 
Here's three easy and luxurious DIY autumn facial care recipes which will be a healthy addition to any skincare regime without the hefty price tag of store bought products. And best of all, you know exactly what's in them, no nasty chemicals, just 100% natural ingredients to rejuvenate and nurture your skin.
Uplifting Lavender Facial Scrub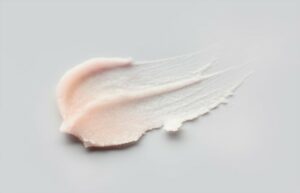 Feeling tired? Not ready to face the day ahead? Skin looking dull? Then this is the perfect early morning treatment for your skin. It'll energise your skin, lift your spirits and give your energy levels a kick-start. Of course it's also great to use in the evening after a long day at work too.
This recipe is simple to make, and used a couple of times a week it will give your skin a detox, removing dead skin cells, dirt and impurities, minimise pores and prevent breakouts, and improve your circulation and provide a natural healthy glow.
Ingredients: 4 tablespoons of almond oil, 5 tablespoons of finely ground pink Himalayan salt, 5 drops lavender oil, 5 drops grapefruit oil, 5 drops lemongrass oil.
Method: Combine the almond oil and salt in an airtight jar and mix well. Add the essential oils and ensure that everything is well combined.
To use: Apply to your damp face with gentle strokes in a circular motion. Rinse off with warm water.
Polish your look with natural exfoliators – Discover the benefits of natural exfoliators
Nourishing Facial Steam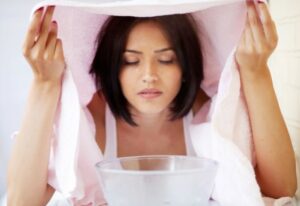 Your skin will definitely benefit from nourishing facial steam. Offering relaxing and pampering properties, it can also be the perfect panacea at the end of a long week at work or busy weekend. I will naturally cleanse the skin and remove bacteria, dirt and impurities, help prevent acne and breakouts, promote the production of collagen and elastin, and increase circulation providing the skin cells with oxygen for radiant healthy skin.
Recipe: 2 drops of Lavender Essential Oil, 2 drops of Tea Tree Essential Oil, hot water
Method: There are two methods which can be used to steam the face at home:
Option 1: Steam with warm towels.
Immerse a hand towel in a bowl of hot (not boiling water). Secure your hair off your face, remove makeup and cleanse the face and neck (you can use almond oil or coconut oil for both jobs).
Wring out the towel so that it is just damp, and apply the essential oils.
Lie down or recline back in a comfortable chair and lay the warm towel over your face, ideally keeping the nostrils clear. Keep eyes closed to avoid irritation. Relax for 5-10minutes.
Option 2: To steam over a bowl or sink of hot water
Secure your hair off your face, remove makeup and cleanse the face and neck (you can use almond oil or coconut oil for both jobs).
Boil some water and fill a bowl.
Sit at a table with a chair that is the correct height for the table, and place the bowl in front of you.
Add the essential oils to a small bowl or a piece of cotton wool and place next to the boil of hot water to allow the steam to diffuse the aroma. Drape a towel over your head and bowls. Hold your face 8-12 inches above the water (whichever is most comfortable for you). Steam for 5-10 minutes. Keep eyes closed to avoid irritation/sensitivity. Lift a corner of the towel if you need to cool off during this time.
Next step: Rinse with lukewarm water and pat dry. 
Apply a moisturising cream, serum or oil. Since any product will be enhanced, use something that nourishes the skin, preferably a natural product to avoid deeper absorption of harsh chemicals. Natural oils are full of skin-loving natural compounds which can greatly benefit the skin.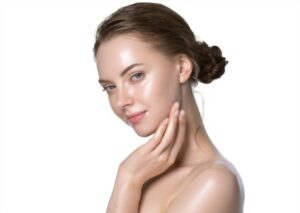 End your relaxing steam session with a gentle face massage to further enhance product penetration, circulation and relax the facial muscles. Using your fingers, gently apply upward strokes on the forehead, cheeks and throat.
The essential oils used will help to kill any bacteria, soothe irritated skin, blemishes and rashes, enhance healing and restore smoothness. They will also add help to soothe and relax a tired mind.
Spotlight on Lavender Oil – All you need to know about the world's most popular essential oil
Spotlight on Tea Tree (Melaleuca) Oil – Find out more about the benefits of this therapeutic essential oil
Benefits of facial steaming for enhanced summer skincare – Want to find out more about what facial steaming can do for your skin?
Hydrating Serum for Autumn Skin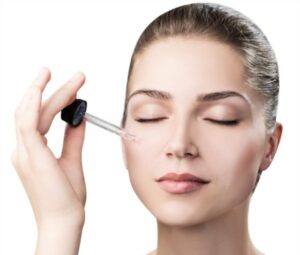 Don't get sucked into buying expensive brand name serums, which promise the earth but deliver little. On the whole they are full of harmful chemicals, fillers, and limited active ingredients. Furthermore they are more likely to exasperate or create new skin problems than have any effect on the problem you are trying to fix. Try this blend of oils which is perfectly suited for normal to dry Autumn skin. Its enriched with essential aroma oils and is 100% natural with all active ingredients working synergistically to give you gorgeous skin.
Ingredients: 3 tablespoons grapeseed oil, 2 tablespoons jojoba oil, 1 tablespoon almond oil, 5 drops geranium essential oil, 5 drops grapefruit essential oil, 5 drops rose essential oil
Method: Measure the carrier oils and pour them into a dark glass bottle. Add the essential oils and mix by gently rolling the bottle between the palms of your hands.
To use: Apply a couple of drops to the cleansed face and gently massage in with soft upward strokes. Leave for 5 minutes and gently wipe off any unabsorbed serum with a cotton pad.
Custom blend your own face serum – Create the perfect serum to meet your skin needs
So there you have it! Three simple recipes, all complementing each other to offer you the best of natural products for healthy glowing skin. Step up your skin routine this Autumn and get your skin in tip-top condition before the rigours of winter.