Almonds are native to the warmer regions of western Asia, North Africa, and the Middle East, although they are now grown throughout the world. Although called a nut, the almond fruit is actually a drupe, otherwise known as a stone fruit, and the tree belongs to the Rosaceae (Rose) family. Almonds were one of the earliest domesticated fruit trees, and archeologists can trace them back to the Early Bronze Age, 3000-2000 BC. They were also found in the tomb of Tutankhamun. Almonds are said to have been a prized ingredient in bread reserved for the Ancient Pharaohs.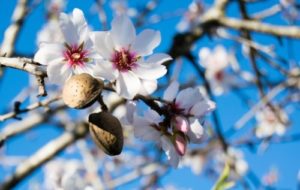 The cosmetic benefits of almonds were known and utilised by the Ancient Greeks, Romans and Egyptians. The Ancient Egyptians used the burnt almond for darkening their eyebrows and the extracted oil for skincare. Cleopatra and Josephine de Bogarnet, wife of Napoleon Bonaparte, are both reputed to have been fans of almond oil. Considering that Jospehine was actually 6 years older than her husband, but was usually described as looking much younger than her actual years, the anti-ageing effects of almond oil were obviously working well! 
What Vitamins and Minerals are in Cold-Pressed Almond Oil?
Crammed full of vitamins, minerals, healthy fats, and phytochemicals, almonds are an absolute powerhouse for health. Almond oil is one of the richest natural sources of E, and also has abundant sources of vitamin A, magnesium, phosphorus, calcium, copper, zinc, and fatty acids, in addition to biotin, thiamin, riboflavin and vitamins D & K. This amazing oil is prized for its antioxidant and anti-inflammatory properties, and is extremely effective for improving the condition of the hair and skin. It is little wonder that almond is often referred to as the "King of Nuts". 
What is Cold-Pressed Almond Oil?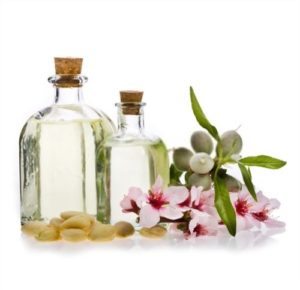 The cold-pressing method extracts oil from almonds using a modern steel press, without the need for heat or chemicals. Therefore the extracted oil retains all of the benefits and nutrients from the almonds in a concentrated oil. Cold-press extraction is the method to obtain a high quality 100% natural oil, and is the only type that you want to reap all the benefits for your skin, hair and body.
Lightweight and easily absorbed, almond oil is gentle and hypoallergenic, and is suitable for all hair and skin-types, even including sensitive baby skin., although the benefits are not just restricted to the skin.
Let's take a closer look at the reasons almond oil deserves a place on your bathroom shelf:
Benefits of Almond Oil for the Skin:
For thousands of years almond oil  has used to soothe, soften, hydrate and repair the skin and is still a popular skincare ingredient today. Almond oil is light and easily absorbed, penetrating deep to restore the skin's natural protective film to protect against oxidative damage and prevent premature ageing. It helps to stimulate the natural production of collagen and elastin, accelerate skin renewal, repair skin damage, and normalise the sebaceous glands to balance the oil content in the skin. Extremely gentle, almond oil is suitable for all skin types, including the most sensitive. , and can even help to treat skin conditions such as eczema and psoriasis. Due to its antibacterial property it can also help with acne, and protect any cuts and grazes from infection.
Almond oil is as an antioxidant
– The presence of vitamins D and E in almond oil can help to neutralise free radicals, thus helping to manage oxidative stress. A rich antioxidant is vital to skincare to reduce free radical damage which can result in inflammation, fine lines and wrinkles, discolouration and other signs of premature ageing.
Almond oil moisturises the skin
– Almond oil contains one of the highest yields of healthy natural fatty acids, which will help to nourish and hydrate the skin, as well as adding a protective barrier to reduce moisture loss. Almond oil is quickly absorbed, and does not leave a sticky residue (if it does you've used too much – only a few drops are required). For best results apply after showering.
Almond oil helps reduce the signs of ageing
– Almond oil is perfect to help retain a youthful glow. It combats the effects of free radicals whilst providing all of the nutrients that your skin needs to stimulate natural collagen and elastin production and restore the barrier function of the skin. Penetrating deeply into the skin, regular use can accelerate regeneration of the skin cells and improve elasticity, even out the skin tone and improve the complexion, reducing fine lines, wrinkles and sagging skin.
Almond oil for dermatitis and eczema
Almond oil has been used for centuries in ancient Chinese and Ayurvedic practices to treat skin conditions. Its anti-inflammatory wound healing and soothing properties will help to reduce redness, itching and general dryness, soften the skin, plus heal and regenerate the skin. Research has confirmed its effectiveness on dermatitis, and supports the use of moisturisers containing almond oil for eczema.
Almond oil for dry and dull skin
As already mentioned, almond oil has great moisturising and emollient effects. It will perfectly hydrate and nourish the skin and repair the skin's barrier to reduce further loss of moisture. Almond oil will help to reduce the feeling of tightness, itchiness and inflammation associated with dry and flaky skin, heal any cracks, and soften and rejuvinate the skin. Dull skin will be revitalised, skin tone and complexion improved, and a new and improved version of your skin revealed.
Almond oil for oily skin
Its antibacterial and anti-inflammatory effects, plus the presence of vitamin A can help to improve acne and breakouts associated with oily skin. Almond oil will help to dissolve excess sebum and unclog pores from dirt and sebum, thus preventing further breakouts. Vitamin F will also help to prevent enlarged pores and normalise the sebaceous glands. Furthermore, almond oil is anti-comedogenic and won't block the pores.
Almond oil for sensitive and irritated skin
Almond oil is extremely gentle, and will help to soothe any irritation and reduce inflammation and itchiness, whilst delivering the healthy supply of nutrients necessary for good skin health.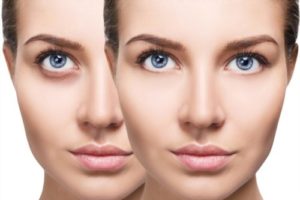 Almond oil reduces puffiness and dark under-eye circles
– Almond oil is a perfect remedy for under eye puffiness and dark circles. Its anti-inflammatory and antioxidant properties will help to diminish puffiness, and combined with its ability to boost blood circulation will handle those dark circles. Additionally almond oil will help to stimulate collagen and elasticity production Before going to bed, gently pat a few drops of almond oil under your eyes using your ring finger, and leave overnight. Take care to only pat the skin, and never stretch the delicate under eye skin.
Almond oil helps to repair sun damage
Studies have demonstrated that almond oil has the ability to protect the skin against damaging UV damage, and reverse damage to the skin as a result of UV exposure. Almond oil has been shown to prevent structural damage and lessen the signs of photo-ageing.  However, this does not mean that almond oil can reduce the need for a high SPF during prolonged sun exposure (almond oil is estimated to have a SPF of 5-6), but does at least afford some protection during incidental exposure, and could be a welcome addition to your SPF and aftersun products.
Almond oil for chapped lips
Almond oil will perfectly moisturise and protect the lips and repair any dryness or cracking. It will also help to tone the lips, remove any dark spots and establish a healthy pink glow to the lips.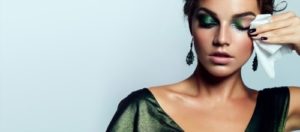 Almond oil removes make-up
– Being lightweight, hypoallergenic and non-comedogenic, almond oil makes a great make-up remover. Apply the oil to a cotton pad and gently wipe across your face, including the eyes. Grime, dirt and make-up will dissolve and adhere to the cotton pad and be gently wiped away.
Almond oil as a cleanser
– Although the idea of using an oil as a cleanser may seem strange, research has shown that cleansing with a oil is very beneficial to the skin, and almond oil is one of the best for this. The oil helps to open and unblock the pores, penetrates deeply, and dissolves any excess sebum, dirt and dead skin. Instead of stripping and irritating the skin, the skin will be fed with important nutrients. Apply a teaspoon of oil to your hands and gently rub the palms together to warm the oil. Sweep all over your face, gently massaging in and allow it to penetrate the skin. Next take a smooth, soft facecloth dampened with warm water and gently wipe over the face to remove the oil, taking care not to scrub the skin. Rinse the face with warm water and pat dry with a towel.
Almond oil as an exfoliator
Almond oil is naturally a gentle exfoliator, removing dry, dead skin. To create a stronger exfoliator to remove blackheads and dirt, simply mix a teaspoon of almond oil with a teaspoon of sugar and massage onto your face in small circular motions. Take care not to press too hard and irritate the skin. Rinse the skin with warm water, and gently pat dry with a towel.
Almond oil reduces the appearance of scars and stretch marks
Almond oil has long been a remedy to reduce scarring in ancient Chinese and Ayurvedic medicine. The high content of vitamin E in almond oil is believed to be responsible for its ability to reduce the appearance of scars and stretch marks, as well as its wound healing and anti-inflammatory properties which reduce the formation of scars. Studies have indicated the ability of almond oil to fade the appearance of stretch marks and post-operative scars, and soften and tone the skin. Almond oil can prevent the formation of stretchmarks during pregnancy or, at the very least, reduce the associated itching and restrict their spread.
Almond oil for after shaving &/or epilation
Almond oil is a superb emollient and moisturiser to replace the moisture lost through shaving, rehydrating and soothing dry red skin, inflammation and razor burn or irritation. Its antibacterial properties can also ensure that any razor cuts or nicks will not become infected, and offers protection against in-growing hairs. Apply one or two drops to wet skin immediately after shaving/epilation. 
Almond oil for rough hands and feet
Almond oil can help to add and retain moisture for rough and calloused hands and feet. The high zinc content can help to smooth and soften rough callouses. Almond oil will also protect any cracks or cuts from infection, and add further protection against fungal infection. For best results, saturate the hands and/or feet with oil before bed, massaging into the rough skin, and cover with cotton gloves or socks and leave overnight. If preferred, the oil can be massaged deeply into the hands without covering, since the oil is very light and will not leave greasy handprints.
Almond oil as a carrier oil
Almond oil is one of the most highly acclaimed, popular, and effective oils for massage. It is a fixed oil (does not evaporate) and has a low viscosity (spreads easily), is thin and light, and has a pleasant, faintly sweet, nutty aroma. Use almond oil for an all over body massage for dry skin. It is easily absorbed and a perfect oil to integrate essential oils into your massage or skin care.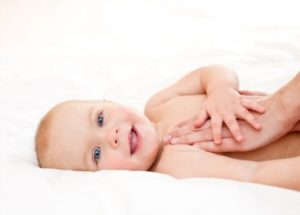 Almond oil for baby massage:
It's common for newborn babies to develop dry or even peeling skin as they adapt to life outside the womb, but their skin is extremely thin and sensitive so extra care needs to be taken not to use anything which could cause irritation and damage their delicate skin.
Almond oil is the perfect hypoallergenic 100% natural remedy for all your baby's skin needs, often recommended by dermatologists and doctors. Almond oil will help to seal in the moisture and put a protective layer on the skin. It can help to prevent and reduce eczema, baby acne, diaper rash, and cradle cap. Your baby can also benefit from a gentle massage with the oil as it will help to promote circulation, brain development, relaxation, and sleep, and may relieve gas and colic. 
Pour a teaspoon of almond oil into your palms and gently rub the palms together to warm the oil, then massage baby's skin. Start with arms, working gently from shoulders down, then move to legs, chest, and belly, then back.
Almond oil for nail and cuticle health
Wonderfully soothing and moisturising, almond oil is full of vital nutrients to nourish and coat the cuticles and nail plate, protecting against cracking, peeling, dryness, and breakage. Almond Oil is non-irritating and an excellent lubricant to plump the cuticles and promote strong healthy nails. Soak the hands and nails in warm water for a few minutes and then apply a couple of drops of the chosen oil to the nails and cuticles, massaging it in well. Rub any excess oil into the hands.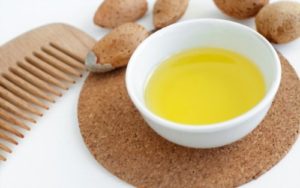 Almond oil Benefits for Hair
Almond oil is not new to the world of hair care, having been used for centuries in Chinese and Ayurvedic medicine to treat dry scalp conditions. Almond oil is suitable for all hair types. It moisturises, seals, and protects, is absorbed quickly but does not weigh down the hair. Used regularly, almond oil will help you to grow stronger, longer, and healthier hair.
Almond Oil to relieve an itchy, inflamed scalp and improve dandruff
Almond oil has antibacterial and anti-inflammatory properties to calm irritation and inflammation of the scalp reduce the symptoms of dandruff, seborrheic dermatitis, and scalp psoriasis, and aid in skin healing. Dandruff can also be aggravated by a dry itchy scalp, and almond oil will work hard to rehydrate the scalp, stabilize sebum production, cleanse the follicles and remove a build up of dead skin cells, and relieve any itchiness. Apply a couple of drops of almond oil onto the scalp and massage in well. Leave for a minimum of 30 minutes and rinse off, or for best results leave overnight.
Almond oil strengthens the hair
Almond oil will infuse the hair with essential nutrients, helping to retain moisture and elasticity and reduce friction during styling.
Well conditioned hair is less prone to damage and breakage, and almond oil will reduce brittleness and protect against damage caused by brushing, heat styling, and chemical treatments such as colouring. Apply a teaspoon to the palms of the hands, massage into the scalp, and spread over the hair. Use a wide-toothed comb to ensure even distribution to the tips. Cover with a shower cap and leave for one hour or overnight. Use once a week.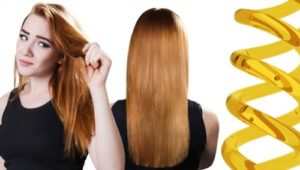 Almond oil repairs existing damage and eliminate dry, dull hair
If your hair has lost its luster due to overprocessing, prolonged sun exposure, or general dryness, almond oil can help to restore that healthy shine and manageability. The emollient properties can fill the gaps in the hair at the cellular level, improving overall texture and resilience. Very dry hair will be fortified by the richness of the fatty acids. For best results use as a leave in conditioner – add a couple of drops to wet hair, comb through with a wide toothed comb, and watch your hair retain a rich, lustrous and healthy shine. Apply a hot oil treatment weekly – warm a teaspoon of oil, distribute over the scalp and hair from roots to tips, cover with a shower cap and leave for three hours or overnight.
Almond oil to control hair loss
– Almond oil contains magnesium and natural biotin, known to promote and accelerate hair growth and reduce thinning, and even demonstrated an ability to help reverse hair loss in one study. Biotin reactivates dormant hair follicles, assisting in follicle regrowth and keratin production, and is often prescribed to those suffering from hair loss and thinning of the hair. Hair loss can also be due to environmental pollutants, and almond oil can help with its antioxidant properties and by adding a protective layer to the hair, preventing damage and breakage. The extensive nutrient value of of almond oil is highly recommended in the treatment of excessive loss and alopecia caused by nutritional deficiencies.
Almond oil smooths the hair
Battling with humidity? Flyaway hair? Almond oil is excellent for coating the hair, reducing frizz and effectively smoothing the hair. Just add a couple of drops to the palms of your hand and smooth over the hair.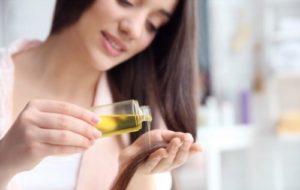 Almond oil for split ends
Apply a small amount of almond oil to your hair ends to reduce split ends. The emollient properties will fill any gaps at cellular level, smooth the hair cuticle,  and protect against further damage. 
Almond oil for cradle cap in babies
Cradle cap is caused by overactive oil glands which interferes with the natural shedding of skin cells by sticking the dead skin cells to the scalp, causing brownish-yellow scaly patches. Almond oil can help by nourishing the scalp and regulating sebum. Apply a thick layer of almond oil to the scalp, gently massage into the affected area, and leave for 15 minutes before gently washing out with a gentle natural shampoo.
Almond oil for eyelashes and brows:
The composition of almond oil makes it a wonderful eyelash and brow treatment. It moisturises, seals and protects, plus restores and retains moisture and elasticity. Almond oil repairs existing damage, improves hair resilience, smooths the cuticle and diminishes friction, thus preventing damage, and diminishing  wear and tear from rubbing so the lashes remain strong. Application of this almond oil will add an instant shine, and accelerate blood circulation, thus promoting growth. Furthermore magnesium and natural biotin are known to promote and accelerate hair growth. A rich source of antioxidants to prevent UV and oxidative stress, almond oil also has antibacterial and anti-inflammatory properties to calm irritation and inflammation. Apply to the lashes and brows as part of your night-time routine, taking care not to get any into the eyes. 
Enhance the health and beauty of your hair and skin with inimitable almond oil. Used for centuries, and still just as popular today. If you haven't already discovered it, do so today.