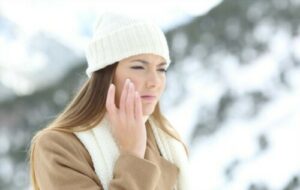 Winter is rapidly approaching, and with it the harsh weather conditions which can wreck absolute havoc on your skin, hair and hands. Wind chill, freezing conditions, dry cold air, central heating – they are all in direct competition to see which one can dry out your skin first, leaving pores exposed to the elements which results in unsightly and painful windburn, chapping and cracking.
Moisture is key to preserve the health of your skin and sweet almond oil may just be your saviour, helping to keep your skin happy and glowing.  
How Can Almond Oil Protect Against Winter Damaged Skin?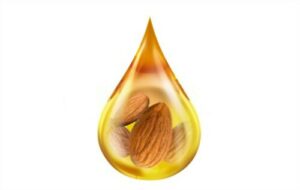 Almond oil is a powerhouse of skin-loving vitamins, nutrients and antioxidants which are ready to battle the elements to ensure you come out the victor in the fight against winter damaged skin. It is the perfect nightly treat for your skin, helping to lock in moisture. Almond oil is abundant with vitamin A, magnesium, phosphorus, calcium, copper and, in addition to biotin, thiamin, riboflavin and vitamins D & K. More importantly it contains one of the highest yields of healthy natural fatty acids to nourish and add hydration, as well a being one of the richest natural sources of vitamin E, the magic elixir for healthy skin. As you drift off into the land of nod, vitamin E goes into battle, eliminating free radicals that can deteriorate the collagen in the skin and helping to repair damaged skin cells.
Overall, almond oil helps to stimulate the natural production of collagen and elastin, accelerate skin renewal, and repair skin damage. For those with oily skin, this oil can normalise the sebaceous glands to balance the oil content in the skin.
Also prized for its powerful anti-inflammatory effect, almond oil deserves a place in your winter skincare regime. Additionally, it has huge benefits for the nails and hair. 
Benefits of Almond Oil in the Winter
Here's just some of the ways that almond oil can help this winter:
Almond Oil is a Natural Cleanser/Make Up Remover/Exfoliator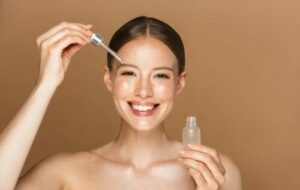 Whereas traditional cleansers can be harsh on the skin and cause irritation, excessive dryness and exacerbate acne, as well as leading to the skin producing more oil as it strips away the skin's natural oil, almond oil is extremely gentle and absolutely toxin and chemical-free. Oil cleansing is very beneficial to the skin, helping to balance the skin and lock in moisture. Oil dissolves oil, and almond oil will penetrate the skin deeply, open and unblock the pores and absorb any excess sebum, dirt and dead skin whilst enriching the skin with important nutrients and hydration. Almond oil is also a natural gentle exfoliator to prevent the build-up of dead skin cells, and it will effortlessly lift oil-based, oil-free and waterproof makeup off the skin and lashes.
To use: Apply a teaspoon of oil to your hands and gently rub the palms together to warm the oil. Sweep all over your face, gently massaging in and allow it to penetrate the skin. Next take a smooth, soft facecloth dampened with warm water and gently wipe over the face to remove the oil, taking care not to scrub the skin. Rinse the face with warm water and pat dry with a towel. To increase exfoliation you can add one teaspoon of oil to one teaspoon of sugar. 
Almond Oil Relieves Dry, Damaged and Dull Skin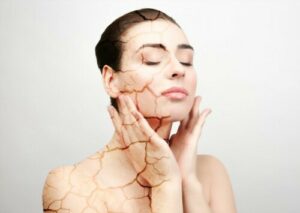 Containing one of the highest yields of fatty acids of all the natural oils, almond oil helps to deeply nourish and hydrate the skin, reducing redness and the feeling of tightness, itchiness and inflammation associated with chapped and dry, flaky skin, and healing any cracks. It will soften, rejuvenate and revitalise the skin, eliminate dull skin, and improve the tone, in addition to adding a protective barrier to reduce further moisture loss.
To use: Apply to any dry or cracked patches on the face or body. Use as much or as little as needed. 
Almond Oil Reduces Dark Under-Eye Circles and Puffiness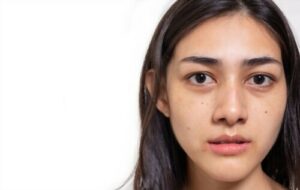 Do you find that dark circles under your eyes seem to be accentuated during the winter months? If so, you're not alone. The lack of sunlight naturally causes the skin to become paler and so the blood vessels that are beneath the thin skin under the eyes becomes more apparent, causing the dark circles. The shorter days can also affect our sleep pattern and it's while we sleep that our skin cells regenerate and produce collagen and elastin. A lack of sleep can disrupt this, and if the skin cells do not have enough time to recover it can result in dark circles or a build-up in fluid causing puffiness by way of "bags under the eyes". Almond oil is renowned for its adeptness in diminishing under eye puffiness and dark circles, which is due to its anti-inflammatory and antioxidant properties and its ability to boost blood circulation. It also stimulates collagen and elastin to support regenerative action missed through sleep deprivation.
To use: Before going to bed, gently pat a few drops of almond oil under your eyes using your ring finger, and leave overnight. Take care to only pat the skin, and never stretch the delicate under eye skin. 
Almond Oil Protects Against Chapped Lips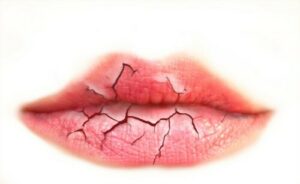 The thin skin on our lips is particularly susceptible to the wind, cold and dry air and the dry heat of central heating which can result in adverse dryness, chapping and cracking. Almond oil will perfectly moisturise the lips and add a protective barrier, as well as repair any dryness, chapping or cracking. It simultaneously helps to tone the lips, eliminate any dark spots and add a healthy pink glow.
To use: Apply a drop to the finger and smooth over the lips every morning, evening and as required in between. 
Almond Oil Remedies Rough Hands and Feet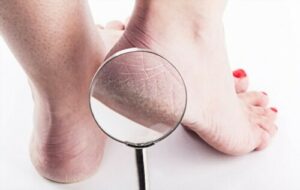 The feet and hands often suffer during the cold winter months. The hands are exposed to inclement weather and the feet are bundled away in thick socks and boots and often neglected. Almond oil can help to add and retain moisture, heal cracks and chapping, and even soften and smooth rough callouses thanks to the high zinc content. It goes without saying that hands should be protected by gloves, and feet should be covered with a natural product such as cotton or wool wherever possible.
To use: Saturate the hands and/or feet with oil before bed, massage into the damaged skin, cover with cotton gloves or socks and leave overnight. If preferred, the oil can be massaged deeply into the hands without covering, since the oil is very light and will not leave greasy handprints. 
Almond Oil Maintains Nail and Cuticle Health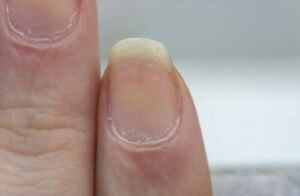 Likewise, the nails and cuticles also take quite a beating during the winter, and the nails can become dry and brittle. Almond oil will hydrate and nourish the cuticles and nail plate, protect against dryness, cracking, peeling and breakage, and plump the cuticles, encouraging strong healthy nails.
To use: Soak the hands and nails in warm water for a few minutes and then apply a couple of drops of the chosen oil to the nails and cuticles, massaging it in well. Rub any excess oil into the hands.
Almond Oil Rejuvenates Your Scalp & Hair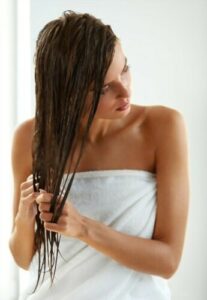 This gentle oil is excellent for the scalp, helping to add much needed hydration, and utilising its antibacterial and anti-inflammatory properties to calm irritation and inflammation of the scalp and reduce the symptoms of dandruff, seborrheic dermatitis and scalp psoriasis. Our hair can really go through the wringer in the cold months, being constantly exposed to the biting winds, cold, and dry air. Almond oil will moisturise, seal and protect the hair. It is extremely lightweight and quickly and easily absorbed into the hair without weighing it down, helping to restore and retain moisture and elasticity. Very dry hair will be fortified by the richness of the fatty acids. Almond oil repairs existing damage, filling the gaps in the hair at the cellular level, improving overall texture and resilience and helping to restore a healthy shine and manageability. It will help to diminish friction during styling to prevent damage or breakage, and is especially useful for preventing split ends.
To use: Apply a teaspoon to the palms of the hands, massage into the scalp and spread over the hair. Use a wide-toothed comb to ensure even distribution to the tips. Cover with a shower cap and leave for one hour or overnight. For best results use 1-2 times a week.  
Almond Oil Diminishes Winter Frizz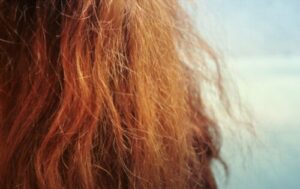 I think we've all battled frizz in the winter months. Dry crisp air, and suddenly a rain shower introduces a mass of moisture into the equation, resulting in a mass of frizz. Almond oil is excellent for coating the hair, reducing frizz and effectively smoothing the hair.
To use: Just add a couple of drops to the palms of your hand and smooth over the hair. 
Don't fight a losing battle when it comes to the health of your skin and hair. Add almond oil to your arsenal of winter protection beauty care products, and win the war against winter damage.