The first Christmas gifts
What could be more synonymous with Christmas than frankincense and myrrh? We've all heard the story of the Three Wise Men or Magi following a star and travelling for days to present their precious offerings of gold, frankincense and myrrh to the baby Jesus – the very first Christmas gifts.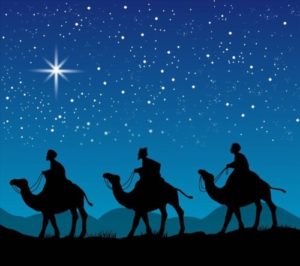 Whilst frankincense and myrrh may seem a paltry gift compared to the gold, at the time they were just as valuable as gold, if not more so, and definitely more useful. So precious were frankincense and myrrh that they were once an acceptable form of currency, and their health benefits were already known at this time. Frankincense was a resin used in religious ceremonies, and is a symbol of holiness and righteousness, whilst myrrh was used as a sacred annointing oil which was often presented to kings in eastern cultures, although spiritually it symbolises suffering. Gold of course was a common gift to a king, and was said to symbolise virtue.
These sacred trees are almost impossible to grow outside of the Arabian Peninsula, which made the limited resin they produced extremely sought after and very expensive. They were key in the establishment of the incense trade routes which made the Arabians possibly the richest people in the world at this point.
What are Frankincense and Myrrh?
 Frankincense, from the term "franc encens", meaning 'quality incense' in Old French, and Myrrh, from the Arabic word "murr", meaning 'ancient spice', are are both aromatic resins which are extracted from trees in the Burseraceae family, also known as the incense family. Frankincense resin is obtained from trees of the genus Boswellia, and Myrrh from the genus Commiphora. Incisions are made in the outer bark which causes the resin to bleed out. The resin is left for a few weeks to harden into the orange-brown resin known as frankincense (Boswellia) and the reddish-brown myrrh (Commiphora) before being harvested from the trees. Essential oil is obtained by steam distillation of the resins.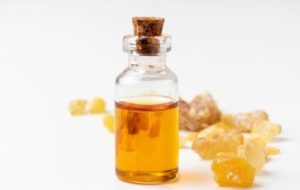 Whilst the high demand and subsequent prices for these sacred oils have diminished rapidly over the past two millennia, it doesn't mean that they have been forgotten, and both have retained their importance in religious ceremonies. They have also claimed their place in perfumery, as well as within traditional Chinese and Ayurvedic medicine. Today, as the world embraces aromatherapy, these two oils are being used to treat the same ailments as they did thousands of years ago, starting with the Ancient Egyptians. They are a must have for everyone's collection.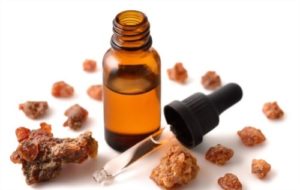 Frankincense and myrrh both have strong bold aromas described as earthy, spicy, woody and warm, with frankincense having a sweetness to it, whilst Myrrh has a more medicinal tone. Both are cooling oils. Whilst frankincense and myrrh both have tremendous benefits in their own right, together they are a powerful synergy, enhancing and amplifying each other's benefits.
Benefits of a frankincense and myrrh essential oil synergy blend
Eases anxiety and stress
This warm comforting blend is very grounding and promotes inner peace and calm, lifting a negative mood and restoring emotional balance. It eases away anxiety, stress, grief, despair, tenseness and sadness. A perfect blend for Christmas which, although the season of joy, is also known to be a time of extreme stress particularly in the lead-up, and a cause of extreme sadness and anxiety or self-reflection for others.
To use: Add equal amounts to your diffuser or oil burner as per the instructions.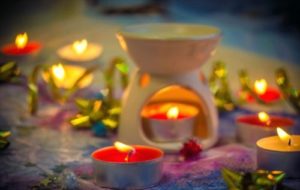 Purifies the air
 It was no accident that myrrh was used to embalm mummies in Ancient Egypt, since it is a potent antibacterial agent and could delay decay and also smell amazing. Frankincense and myrrh were also burned in places of worship over the centuries to prevent the spread of contagious diseases. Together these two oils enhance each others antibacterial, antimicrobial and antivirus benefits and will purify the air of harmful pathogens, as well as stimulating the immune system to generate more white blood cells and thus boost the immune system.
To use: Add equal amounts to your diffuser or oil burner as per the instructions.
Promotes restful sleep
By alleviating tension and stress in both body and mind, frankincense and myrrh can help to promote a restful night's sleep.
To use: add a couple of drops to a diffuser; add to some water and spray on the bedding; or add a drop of each to a tablespoon of a carrier oil of your choice such a sweet almond oil and massage into the skin.
Supports the respiratory system
Indicated for the treatment of asthma, sinusitis, bronchitis and any respiratory inflammation such as caused by a cold or flu, in addition to problems like coughing and wheezing, the strong anti-inflammatory and expectorant abilities can reduce inflammation, relieve nasal congestion and diminish mucus in the respiratory tract, as well as acting as an immunostimulant.
To use: Add a couple of drops to a diffuser and inhale deeply, or add 2 drops of each to a teaspoon of the carrier oil of your choice such as sweet almond oil and use as a chest rub.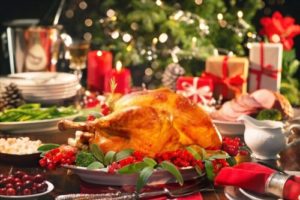 Supports gut health
 When massaged into the stomach it can help to relieve indigestion, constipation and stomach pain and cramping or spasms. It is believed to accelerate the release of gastric juices, thus breaking down the food quicker for easier digestion and improving nutrient absorption. Additionally it stimulates peristalsis, moving the food through the digestive tract and diminishing indigestion, constipation, diarrhea and cramps, and may help relieve spasms related to irritable bowel syndrome, and reduce the symptoms of chronic colitis. May be particularly beneficial to have a blend to hand over Christmas, when people traditionally overindulge and may suffer from indigestion and other stomach ailments. Can also be used as a preventative measure.
To use: Add 2 drops of each to a teaspoon of the carrier oil of your choice such as sweet almond oil and massage into the abdomen.
 Relieves inflammatory pain
Together frankincense and myrrh have powerful anti-inflammatory properties and are able to block the production of inflammatory chemicals that cause swelling, and can reduce pain by interacting with opioid receptors to prevent the brain receiving messages regarding pain and increasing the pain threshold. They relax and relieve sore and stiff muscles and can help with nerve pain, headaches, and inflammatory diseases such as arthritis, as well as reducing recovery time from injury.
To use: add a drop of each to a damp washcloth and use as a cold compress, or dilute two drops of each in a carrier oil and massage in where required. For added relief, add a drop of peppermint. 
Improves the skin
 Frankincense and myrrh have a long tradition of being used to treat skin ailments and wounds, and to enhance the skin's beauty, as demonstrated by Ancient Egyptians. They are both renowned for their skin-enhancing properties, but together the effect is unstoppable – preventing infection and accelerating wound healing.  Research also supports that they can ease eczema and dermatitis, in addition to balancing sebum, relieving acne and dry or oily skin, plus reducing the appearance of pigmentation, scars and stretch marks. This combination will effectively combat breakouts and other signs of irritation, and leave the skin fresh and glowing.
To use: Mix 2 drops of each oil to one teaspoon of the carrier oil of your choice, and apply topically to the affected area; add a couple of drops to your favourite moisturiser; or make a face serum by adding 60ml of carrier oil to a glass bottle (preferably dark glass) and adding 10 drops of each oil – apply morning and evening.
Counteracts the signs of ageing
This is a superb synergy blend to both combat and protect against the signs of ageing. Together they are a powerful antioxidant and a potent free radical scavenger. In fact myrrh alone has demonstrated to be more effective than vitamin E. The blend of frankincense and myrrh stimulates cell renewal, improves elasticity, plumps and tightens the skin, alleviates fine lines and wrinkles, diminishes age spots, reduces the appearance of fine lines and wrinkles, and restores the skin's youthful glow.
How to use: Make a face serum by adding 60ml of carrier oil to a glass bottle (preferably dark glass) and adding 10 drops of each oil – apply morning and evening; or add a couple of drops to your favourite moisturiser.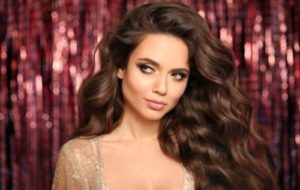 Strengthens the hair
As well as the skin on the body, the scalp can also benefit from the effects of frankincense and myrrh. Restoring the scalp's health, it stimulates the sebaceous glands to produce oil to address an oily or dry flaky scalp, and dispels dandruff dermatitis. The use of frankincense and myrrh will soothe the hair follicle, facilitate hair growth, and strengthen the roots and prevent hair loss.
To use: Add 2 drops of each oil to a teaspoon of the carrier oil of your choice, massage into the scalp and distribute evenly over the entire length of the hair using a wide tooth comb, 30 minutes before shampooing; or add a few drops to your favourite shampoo and conditioner.
The perfect Christmas room spray and diffuser blend
Looking for a christmas scent away from the sickly sweet or pine offerings, then frankincense and myrrh is the one for you. What could be better than the original Christmas offerings, plus they will enhance peace and calm in the true spirit of the season.
To use: Add 5 drops of frankincense oil, 4 drops of myrrh, 3 drops of orange (representing the gold) to your diffuser or oil burner. Make a room spray by adding 120ml. distilled water and 60 ml. witch hazel (or substitute 2 tsp Epsom salt and an extra 60ml distilled water) to a 200ml spray bottle. Add 7 drops each of frankincense, myrrh and orange, mix well and spray as needed. 
Of course this is just the tip of the iceberg regarding the combined benefits of frankincense and myrrh, and Chinese doctors have already investigated and confirmed cancer-fighting abilities.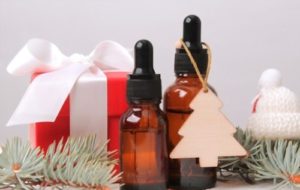 This Christmas treat yourself to the gift of health, you no longer need to be a king to experience the luxury of frankincense and myrrh. It also makes the perfect gift, and you can mimic the first Christmas gifts by adding a gold coloured oil burner or even a fine piece of gold jewellery, for the more extravagant. However you choose to give these precious oils, they will provide benefits well beyond the initial joy of a seasonal gift, and will keep on giving long after the trees and decorations are gone.