Is black seed oil good for immunity?
In the age of chemical industrial products, the natural means finally has become the first to come up to our minds, once we hear words like bacteria or virus. Strengthen our immune system would be our shield to resist those potential dangers instead of the traditional chemical means that comes with a long list of side effects to fight against several various ailments. In the first place of natural sources is black seed oil.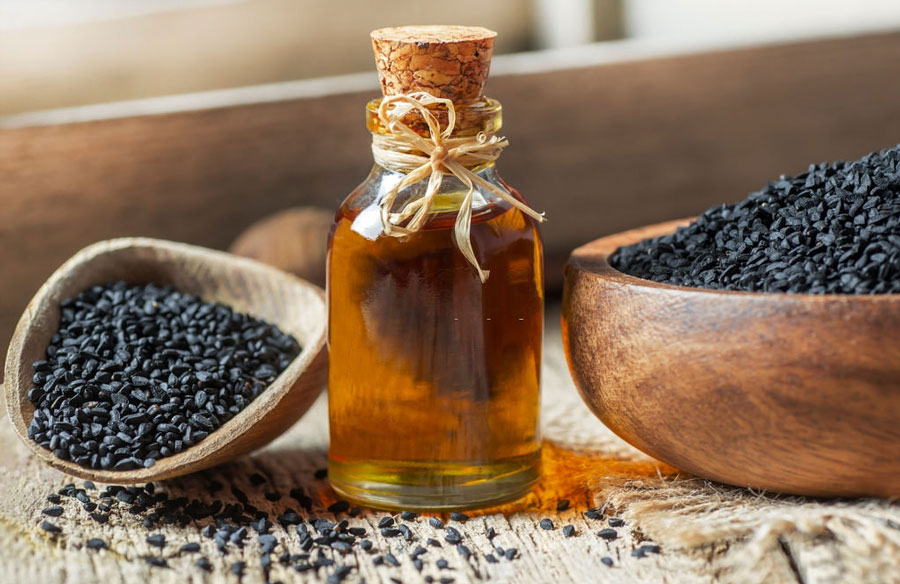 Black Cumin Oil Benefits
In 2004, hundreds of studies proved that black seed oil has anti-inflammatory and analgesic effects. Black seed oil has been used successfully in the Middle East for more than 2,000 years to treat several varieties of diseases. The ancient Egyptians used black seed oil for thousands of years to alleviate diseases and strengthen the immune system, and this was discovered in their graves and mentioned in the drawings on its walls.
A nutritional balanced diet one of the benefits of black cumin oil always comes as a first recommendation when you just think to live better, healthier, happier and longer. Healthy oils and fats are commonly necessary in any healthy diet for many reasons, one of them is helping our body to absorb the fat-soluble vitamins like A, D, E and K, as they are essential in hormone and cells creation.
Natural dietary oils provide us with important nutrients that cannot be self-produced by our bodies as; fatty acids like Omega 3 and Omega 6, as they can supply our bodies by the good cholesterol HDL and decrease the bad one LDL.
There are dozens of oils that come out from our pure nature, they have common benefits as we mentioned above, and furthermore each type has its own unique benefits that make it special among the others, some are good for hair and skin, some are great to our diets which are used in cooking and as dressing and others have a special magical influence to a specific body systems.
One of the important aspects was also recognized, the positive effect of black seed oil in allergies of all kinds. (The high importance can be seen, among other things that Nestle Group has been trying to patent this knowledge for itself since 2010)
Further, in the recent past, studies have shown that black Cumin oil can restrain and inhibit the growth of tumors, and relieve the side effects of chemotherapy treatment.
How is Black Seed Oil made?
The seeds are harvested from the fruit capsules of the Nigella Sativa for oil production. After drying the seeds, the cold-pressing process is used to obtain high quality pure black seed oil, in order to extract the oil from the seeds.
During the cold-pressing process, the black seed oil is pressed out of the seeds using a screw press without heating, which is necessary to preserve the important ingredients in the oil.
It's very important to use only high quality cold-pressed black seed oil.
Requirements for High quality Cold Pressed Black Seed Oil
First, organic cultivation of the used Nigella Sativa plant is important. A good prerequisite for obtaining perfect oil is a control, which takes place from a single source, from the cultivation of the plant without chemical substances, through the cold pressing of the oil seed under constant quality control, through to bottling and distribution. When buying natural products such as natural oils, you should make sure that the offered organic quality is recognized by certificates from independent institutes.
With its climate, long history and experience in cultivating and using the Nigella Sativa plant, Egypt offers a basic requirement for the production of healthy, natural black seed oil with all the nutrients our body needs.
Black Seed Oil for Boost Immune System
Our Immune System is our shield that we always try to keep it strong enough to resist the harmful invaders that might attack our body, it's our internal defensive power that all the body systems need to protect them from any potential danger. And today's world has lots of aliens in a viral and bacterial form, which consistently look for a host.
The crucial question is: does our immunity shield is strong enough to face today's dangers?!
In the article we have on our discussion board one of the best gifts that our nature offered to us to boost our Immunity, and help our defensive shield to be powerful to face the daily challenges against the bacterial and viral invaders.
Those unsaturated fatty acids are vital for a well-functioning immune system. As its significant to prevent the occurrence of autoimmune diseases, which may occur due to many reasons such as; immune deficiency due to stress or a diffuse immune system.
Oil extracted from the dried Nigella Sativa is rich by fatty acids, which are the constituents of essential amino acids. They serve as messenger to deliver many types of vitamins and minerals to the whole body, in order to ideally maintain the daily physical functions. Minerals as biotin, magnesium, selenium (for detoxification) and vitamins; A, B, C, E, which make it primary at your shelf essentials list, among the natural cold pressed oils.
A defective immune system is not only reflected in our internal organs, but also on our largest organ in our bodies which is "the skin". This can lead to cracked skin such as neurodermatitis, acne, psoriasis, etc. Regular consumption of black seed oil, can protect from infection by different sorts of allergies, chronic illnesses and helps in case of a cracked skin in a natural way. However, it is also ideal for external use. For this purpose, the affected areas are treated topically, which relieves the itching and provide the dry areas with moisture. Black seed oil is also suitable for full-body care, which recommended for a velvety-soft skin.
Our polluted surroundings really fit to be a perfect home for lots of viral diseases. In our modern times, It's easy to move around the world in the shortest possible time, and without a fully-functional immune system we are all at danger of a fast infection with a viral disease.
Well-known viral diseases such as Influenza, rubella, chickenpox, herpes and recently unknown viral pathogens called corona-virus. We should secure our body systems by a tough immune system!
We know that in case of immune deficiency our bodies become susceptible to the smallest pathogens. In everyday life we ​​are constantly exposed to harmful influences, in public transport, at work, our children in play grounds, schools, everywhere, the viruses could be anywhere.  Let's just think of winter time alone! Sniffing time! Black seed oil natural antibiotic! A regular morning consumption of black seed oil helps the whole family to enhance the body defenses.
Important protection: an intact immune system! Now it's time to strengthen your immune system!
Black Seed Oil (Cumin) How To Use ?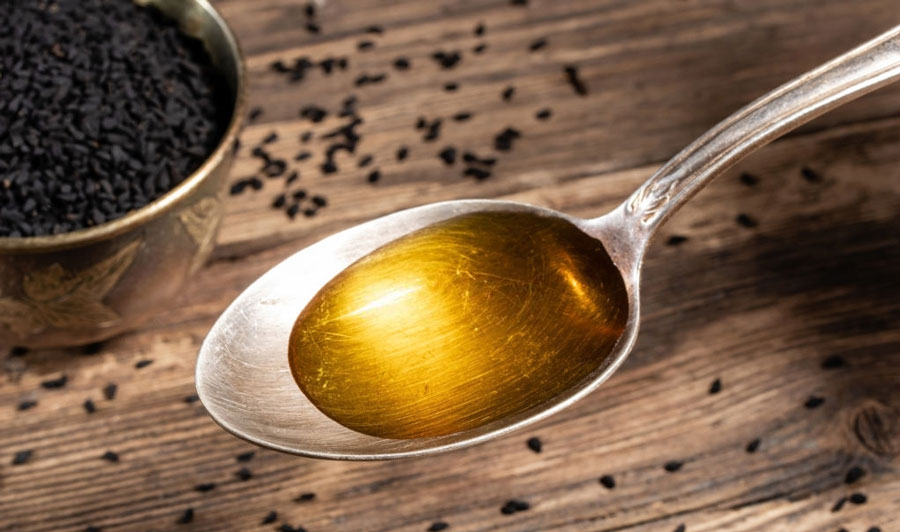 Black seed oil helps protect our children in a natural way. Enhancing their defenses is a must nowadays. For children from the age of 4 years, a teaspoon of black seed oil mixed with yogurt daily for a healthy dietary supplement.
Adults are advised to take a teaspoon of black seed oil every morning 15 minutes before breakfast.
Black Seed Oil Nutritional Value
A small amount of black seed oil has many anti-oxidative and disinfectant properties, which is able to fight efficiently against allergies and respiratory or fungal infections, as well as a serving of the black cumin oil contains a 60% of the daily need to the unsaturated fatty acids, that cannot be formed by themselves in human body, that's why it has to be from external intake, which make the natural pure black seed oil a very important product in naturopathy.