Description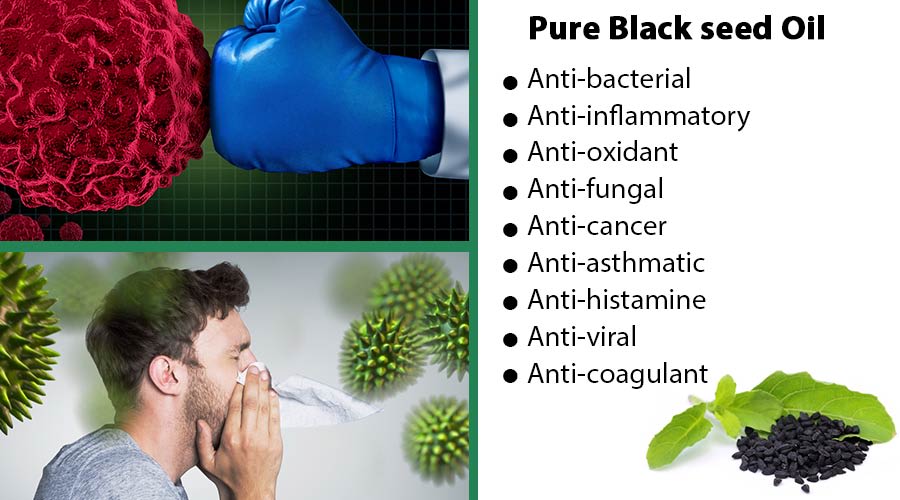 Pure Black Seed Oil Benefits
In the first place pure black seed oil is recommended for the prevention and treatment of cancer, as it increases the immunity and brakes proliferation of the cancer cells. Natural Black seed oil is used in a complex treatment of various diseases such as: functional impairment of the liver (hepatitis, cirrhosis); diseases of the stomach and duodenum; rheumatism; musculoskeletal diseases; and it also improves digestion. Pure Black seed oil has antibacterial, antifungal, and antiviral properties.
Natural Black Seed Oil for Diabetes
Natural Black seed oil is the strongest natural cure to reduce blood cholesterol levels. Pure black seed oil used in the treatment of diabetes (I and II types) as it regulates the level of sugar in blood and found especially effective in diabetes type II.
Pure Black Seed Oil for Health
Natural Black seed oil enhances male sexual function and prevents prostate dysfunction. This oil found able to softly remove kidney and bladder stones (up to 1 cm). Pure Black seed oil increases immune system and treats ENT diseases: sinusitis, dry cough, asthma, asthmatic bronchitis, colds, sinusitis, tonsillitis and etc.
Natural Black Seed Oil Antioxidant
Numerous scientific studies have proven natural black seed ability to completely clean the body from harmful substances remaining after the digestion process and the unfavorable impact of the environment. The impact of natural black seed on the immune system is achieved by increasing the killers-T (NKT). Scientists have likened it to the 5 strongest antibiotics, but unlike antibiotics, pure black seed oil has no side effects on the body in complete.
Pure Black Seed Oil for skin
Natural Black seed oil perfectly treats eczema, various skin diseases, fungal infections, and any type of allergy. This pure black seed oil enriches the skin with natural nutritive and vitamins.
Natural Black Seed Oil for Psoriasis
Psoriasis caused by an abnormal immune system reaction, induced unnatural proliferation of the epidermis of skin. Natural black seed oil regulates the immune cells activity and enhances the body's ability to lower abnormal cell proliferation.
Contraindications: Avoid internal usage during pregnancy; not recommended for patients with implanted internal organs.
Natural Black seed oil for Hair
Natural Black seed oil has become a real hit in hair care. Pure Black seed oil works great on hair growth. After regular use ,you will notice the disappearance of hair loss . You will see it during washing and on the brush. An additional benefit of natural black seed oil is the elimination of scalp itchy.