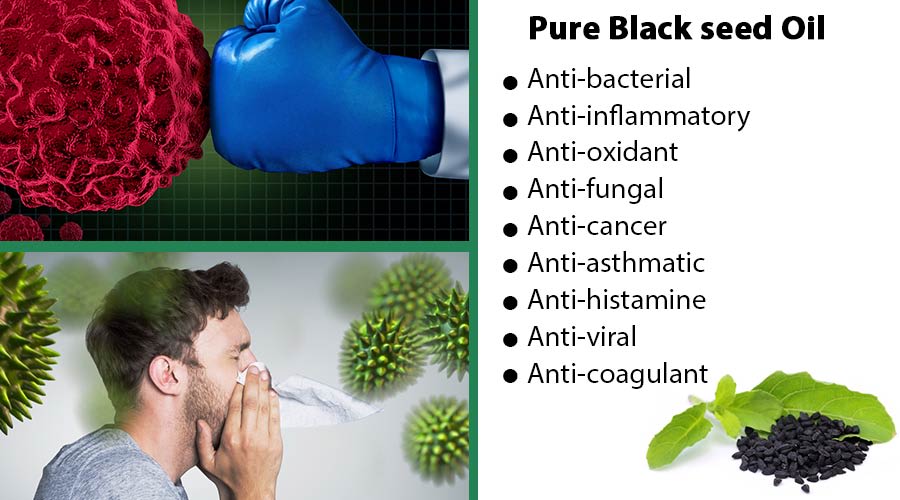 Natural Black Seed Oil: Benefits
Black seed oil is a powerful immunomodulator. The composition of black seed oil is impressive, it contains vitamins A, B, C and E, as well as calcium, phosphorus, zinc, iron, magnesium, manganese, flavonoids, essential oils, essential amino acids, plus omega-3,6,9. One of its most important properties is its ability to fight cancer, as it slows the proliferation (i.e. reproduction) of cancer cells. Natural black seed oil is also used for such diseases as: hepatitis, cirrhosis, diseases of the stomach and duodenum; rheumatism; musculoskeletal diseases; cardiovascular pathologies, kidney and bladder diseases, bronchitis, bronchial asthma, colds, sinusitis, and allergies of any type. It also significantly improves digestion and intestinal motility. In addition, this oil has antibacterial, anti fungal and antiviral properties and helps to treat skin diseases.

Black Seed Oil for Diabetes
This oil has been shown to treat type I and type II diabetes as it regulates blood sugar levels. Furthermore, black seed oil contains powerful antioxidants that have a positive effect on the overall health of diabetics.
Health Benefits of Black Seed Oil 
Natural black seed oil is the strongest natural remedy for lowering blood cholesterol. It enhances male sexual function, is used for problems with conception and prevents prostate dysfunction. This oil has the ability to crush kidney stones and gently remove sand from the bladder. Black seed oil also restores the immune system and is used for diseases such as sinusitis, dry cough, asthma, asthmatic bronchitis, colds, tonsillitis, etc. It is especially recommended for people with high blood pressure.
Black Seed Oil as a Natural Antioxidant
Numerous scientific studies have proven the ability of natural black seed oil to completely cleanse the body of harmful substances that are left in the body after the digestion process, as well as protect against adverse environmental impacts. The effect of this cold pressed product is achieved by increasing the number of Natural Killer T (NKT) cells. Scientists compare the power of black seed oil with the five most powerful antibiotics, but unlike antibiotics, it generally has no side effects on the body.
Black Seed Oil for the Skin
Natural black seed oil is excellent for treating eczema, psoriasis, neurodermatitis, various skin diseases, fungal infections and any type of allergy. Effectively combats acne and is a powerful wound healing agent. It also enriches the skin with natural nutrients and vitamins.
Black Seed Oil for Psoriasis
Psoriasis is a primary skin disease caused by an abnormal immune response. Natural black seed oil regulates the activity of immune cells and enhances the body's ability to reduce the abnormal proliferation of skin cells.
Black Seed Oil for Hair
Black seed oil has become a sensation in hair care. Its use contributes to the rapid growth of hair and the strengthening of hair follicles. After regular use, the hair will stop shedding, additional benefits will be the elimination of itchy scalp and dandruff will no longer be present.
Contraindications: avoid internal consumption during pregnancy; not recommended for patients with organ transplants.