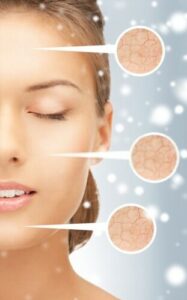 Dry skin is inevitable in winter. Cold dry air, brutal harsh winds, hot showers and central heating can be brutal on the skin. In fact, the skin loses approximately 25% more moisture in the winter months than it does in the warmer months. For those that already suffer from dehydrated and sensitive skin, the season can be an absolute nightmare. The weather can exacerbate skin conditions such as eczema and dermatitis, and cause chapping, cracking and extreme dryness, and make the skin look dull and stressed. Meanwhile sweating as we layer up clothing and go from cold to hot can worsen acne and cause breakouts. 
Stepping up your skincare regime with the right products during these harsh conditions is a must, and luckily for us we have shea butter to add to our arsenal of protective and nurturing products, leaving the skin feeling soft, healthy and nourished in no time at all. Best of all, it's completely natural and won't cause any damage to your skin, hair or body, plus it's suitable for even the most sensitive of skins. Avoid the disappointment of zero results from the expensive synthetic products you'll find in supermarkets and department stores which promise the earth but deliver nothing. Shea butter is just what your skin needs and is the perfect solution to most of your winter beauty problems.
Why is Shea Butter the Solution to Winter Beauty Problems?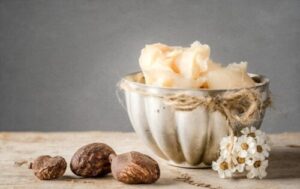 Shea butter is practically a food for the skin and is featured in many products in light of its extraordinary . cosmetic and dermatological healing properties. It's a yellow/ivory coloured luxurious natural fat, extracted from the kernels of shea (karite) trees, which are native to sub-Saharan Africa, and is full of magical ingredients which are a curative balm to problem winter skin. It contains a vast array of organic acids, including oleic acid, arachidic acid, cinnamic acid, linoleic acid, palmitic acid and stearic acid, which provide its strong antioxidant and anti-inflammatory properties, in addition to vitamins A, E and F which play a major role in skin health. Vitamins A and E help to maintain skin health and are particularly useful for sun damaged skin, and vitamin A also plays a pivotal role in improving skin conditions. Meanwhile vitamin F promotes healing, and protects and rejuvenates, soothing dry, chapped or rough skin. Combined they promote blood circulation and healthy skin cell growth, and help to allay and protect against the signs of ageing such as lines and wrinkles.
Let's find out how shea butter can be your winter beauty hero:
Shea Butter Creates a Skin Barrier for Winter Protection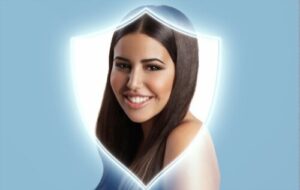 Shea butter is a powerful skin protector, which provides the skin with a barrier to protect against the harsh winter weather such as cold temperatures and brutal winds, looking in moisture, providing antioxidant, antibacterial and anti-inflammatory properties and preventing skin damage. It can also offer some protection against sun damage since UV rays can still damage the skin and cause photoageing regardless of the season.
Shea Butter is an Excellent Moisturiser for the Skin
Shea butter is full of nourishing fatty acids which are easily absorbed into the skin, providing extreme hydration. This natural emollient forms a protective barrier on the skin and locks moisture in. It is particularly effective for dry, parched or cracked skin and can help to eliminate dry rough skin on the elbows and hands.
Shea Butter Soothes Damaged Skin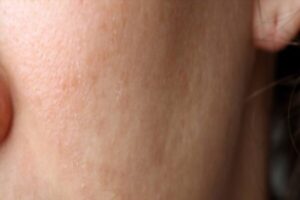 Shea butter is well known for its healing properties. Packed with vitamin A and E it's a salve for damaged or sensitive skin. Its anti-inflammatory properties can help to relieve redness and irritation and prevent itching. It soothes psoriasis, eczema and dermatitis, and helps to heal cracked, chapped or windburnt skin. Unlike traditional treatments for skin conditions, shea butter has no side effects and is not abrasive on the skin. Shea butter deeply penetrates the pores and begins healing from the inside out, inducing skin regeneration. It does not clog the pore, but instead flushes dirt and impurities away which, with it's antibacterial and sebum balancing properties, makes it a natural remedy for acne and for controlling breakouts. Shea butter is also gentle enough to be used on a baby to tackle diaper/nappy rash and to soothe chapping in delicate areas. 
Shea Butter Brightens the Skin
It can seem like winter literally sucks the brightness out of your skin, leaving you will dull tired-looking skin. But shea butter can be your dull skin remedy, increasing blood flow, providing deep nourishment with the fatty acids and high content of vitamin E, inducing skin regeneration and providing a protective skin barrier which locks moisture in to provide a healthy radiant glow.
Shea Butter Diminishes Dark Circles Under the Eyes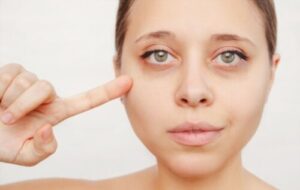 Dark circles under the eyes seem to be more accentuated during the winter months. It's caused by the lack of sunlight making the skin become paler so that the blood vessels that are beneath the thin skin under the eyes becomes more apparent, causing the dark circles. The shorter days can also affect our sleep pattern and it's while we sleep that our skin cells regenerate and produce collagen and elastin, so if we are not getting enough sleep the skin cells may not have enough time to recover which can result in dark circles or a build-up in fluid causing puffiness by way of "bags under the eyes". Shea butter is adept in diminishing under eye puffiness and dark circles due to its anti-inflammatory and antioxidant properties and its ability to boost blood circulation, in addition to keeping the skin well hydrated and encouraging cell regeneration.
Shea Butter Softens and Protects the Lips
The cold winter winds and dry heat of central heating  literally suck the moisture right out of the lips, leaving them dry, chapped or cracked. Apply shea butter as a nourishing lip salve and it will help to provide a barrier against the elements, as well as healing existing damage.
Shea Butter for the Hands and Nails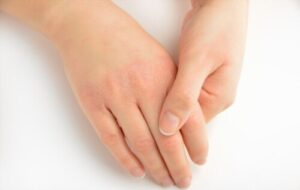 The hands are often exposed to inclement weather and can become dry, chapped and cracked. Likewise, the nails and cuticles can succumb to the harsh conditions, and the nails can become dry and brittle. Shea butter will hydrate and nourish the cuticles and nail plate, protect against dryness, cracking, peeling and breakage, and plump the cuticles, encouraging strong healthy nails.
Shea Butter for a Smooth Shaving Experience
Shaving can be stressful on the skin, particularly during the winter months when the skin is less conditioned. For a smooth shaving experience shea butter makes the ideal shaving cream, softening rough skin and dryness and eliminating any bacteria on the skin. Apply more after shaving to soothe any cuts or inflammation and to protect against infection.
To Fight The Signs Of Skin Ageing
Dry mature winter skin is more prone to the effects of ageing. Help to protect a more youthful appearance with shea butter. In addition to the superb hydration it provides, shea butter will increase the softness and flexibility of the skin, promoting collagen, supporting the elasticity of the skin, increasing blood circulation and boosting skin cell regeneration.
Shea Butter to Remedy Cracked Heels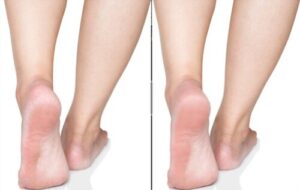 Another common problem during the winter months is cracked painful heels. We tend to neglect our feet and yet expect them to go on serving us regardless. Going from hot to cold, bundling our feet in thick socks and boots and often letting them get wet in the rain or snow without giving them extra care is asking for problems, and there is also a concern of a fungal or bacterial infection.The anti-inflammatory, antibacterial, antifungal, moisturising and healing properties of shea butter will help to allay any problems and leave the skin soft and flexible.
Shea Butter Eliminates a Dry Scalp
Like the rest of the skin, the scalp can also suffer from excessive dryness and flaking in the winter months due to exposure to the cold weather and harsh winds or from being covered in a hat, particularly if a synthetic material is used which does not allow the skin to breathe properly. As elsewhere, the shea butter penetrates the skin deeply and quickly without leaving a greasy residue, to provide hydration and eliminate itching, irritation, dryness and flaking. 
Shea Butter Conditions the Hair & Beats Winter Frizz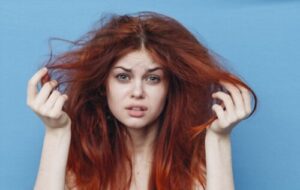 The moisturising and nourishing benefits of shea butter are not just limited to the hair. Shea butter is also a saviour to winter damaged hair, and nourishes and moisturises from root to tip, and can repair, prevent or reduce dryness and brittleness from the harsh conditions, as well as from hot styling which is often more prevalent during the winter months. Meanwhile frizz can be a real problem in the winter months as the crisp dry air is invaded by a mass of moisture from a rain shower which results in a mass of frizzy hair! Shea butter is a great way for controlling frizz. All you need to do to condition the hair and protect against frizz is to apply some shea butter to the hair and leave for 30-60 minutes before shampooing out. You can also melt a little butter in your hands and smooth over thick curly hair for extra protection against the dreaded frizz.
Shea Butter Can Ease Joint & MusclePain
And the extra benefits don't just include the hair. The anti-inflammatory properties of shea butter make it an excellent base for a massage to help ease joint, muscle and arthritis pain which can be exacerbated by the colder weather. You can also add in a couple of drops of eucalyptus essential oil to further enhance the effects.
So feel good in your own skin this winter with the help of natural shea butter, rejuvenating and regenerating the skin, providing excellent moisturising protection and promoting a healthy natural glow. The weather may be rough but your skin doesn't need to be!