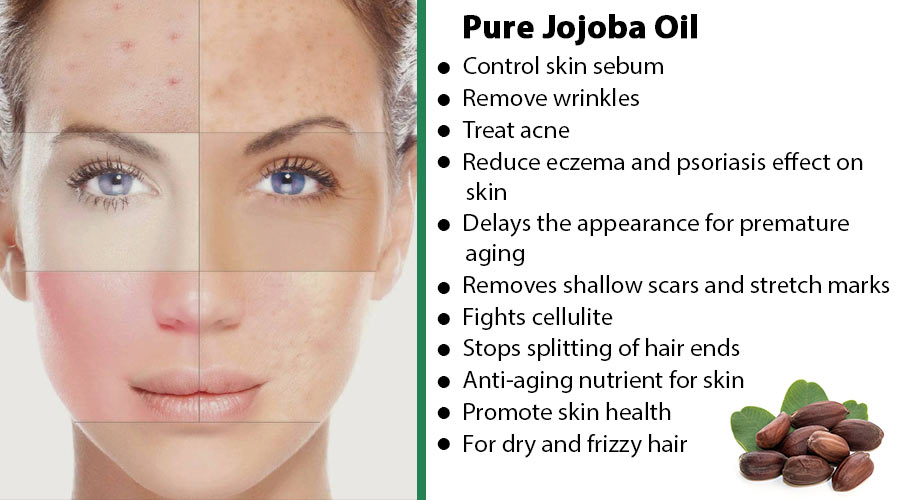 Natural Jojoba Oil Benefits
Natural Jojoba oil contains many biological and mineral substances, which are necessary for beautiful well-groomed skin and hair. Natural Jojoba oil eliminates the harmful effects of the environment on human skin and slows skin aging appearance.
Natural Jojoba Oil for Hair Care
Natural Jojoba oil has many uses and is highly recommended adding to all beauty products for face, body and hair. You can add pure jojoba oil to cream, lotion and shampoo. Natural Jojoba oil stimulates skin health and is great for dry or frizzy hair, it also prevents split ends.
Pure Jojoba oil can moisturize, soften and nourish weak, dry or damaged natural hair. After using, your hair will get elasticity, softness and radiance. It is also beneficial for greasy hair as it provides proper cleansing. It acts as an anti-bacterial and helps to soothe scalp irritation.
Jojoba Oil for Skin
With age, the amount of collagen fibers in your skin decreases, and wrinkles start to appear. Because of the lack of collagen, the skin loses its firmness and elasticity. Pure jojoba oil encourages the natural production process of collagen, leaving your skin looking and feeling youthful. Pure Jojoba oil can also relieve irritation after shaving.
Pure Jojoba Oil for Acne
Due to its well-balanced composition, pure jojoba oil is suitable for all skin types and is recommended for use in all age groups. Natural jojoba oil does not clog the pores on the skin, allowing them to breathe and never leaves any greasy residue. Pure Jojoba oil is successfully used in the treatment of acne, allergic rash, and also prevents and eliminates stretch marks and cellulite.
Natural Jojoba Oil for Massage
Jojoba oil has been found as the gentlest natural oil for massage when used pure or mixed with other natural or essential oils.
Natural Jojoba Oil SPF
Natural Jojoba oil has an SPF of 4. It also optimizes the absorption of vitamin D and protects against harmful rays.