Delicate, fragrant and beautiful, flowers are a source of joy in our homes and garden. Long used in health and beauty care, they are now making a huge resurgence in health and beauty as people turn back to nature to avoid the chemicals which could have a detrimental effect on our long term health. In fact, if you look at some of the ingredients in natural skincare products you may be forgiven to thinking that you are looking at a florist's catalogue. Packed with essential nutrients, flavonoids and antioxidants, flower extracts provide a powerful punch to our skincare regime, yet they remain extremely gentle on the skin. They impart benefits way beyond the wonderful natural fragrance they emit, and even with today's chemically enhanced ingredients, the healing and rejuvenating power of natural flower extracts remains unrivalled.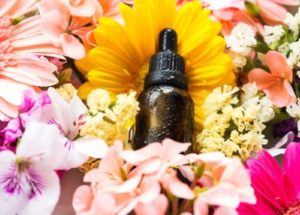 The easiest way to utilise the power of flowers is using essential oils which are the extract of the very essence of the plant, its aroma and all of its beneficial chemical compounds, which can provide natural remedies for a plethra of skin ailments, and address our beauty concerns and needs. They can manage and deter free radical damage and early signs of ageing, and help moisturise, cleanse, tone, smooth, repair and rejuvinate the skin. 
Want to know more about what the natural power of flowers can do for your skin? Here's five of the best and their amazing benefits.
Rose Essential Oil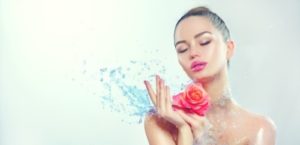 Rose oil is an invaluable aid to skincare, and contains an impressive array of essential nutrients, vitamins and antioxidants, in addition to providing anti-bacterial, antifungal, anti-inflammatory, antioxidant, antiseptic and cicatrizant benefits for the skin. Suitable for all skin types, rose oil relieves skin irritations, helps with conditions such as eczema, rosacea and psoriasis, balances moisture levels in the skin to hydrate dry and tired skin and control excess oil, helps to maintain the skin's natural pH balance, enhances blood circulation and increases the skin's permeability ensuring efficient absorption of healthy nutrients. It strengthens and stimulates skin cells, promotes collagen production and, in the case of damaged skin, stimulates skin regeneration. Rose oil is also an effective natural remedy for acne, removing excess oil and dirt, clearing blocked pores and toning the skin, whilst the potent antibacterial properties are known to eradicate the acne causing bacteria "propionibacterium acnes". Meanwhile, mature skin will be visibly smoother with fine lines and wrinkles diminished. This wonderful oil can also diminish dark circles under the eyes and add a healthy glow to the skin. It's ability to reduce the appearance of scars and stretch marks with its powerful skin regenerating properties is also well known.
Geranium Essential Oil
Suitable for all skin types, geranium oil can help to balance hormones and the pH level of the skin, and is effective against ailments such as eczema, dermatitis, psoriasis, and acne. It helps to regulate sebum production and rebalance the skin, and can therefore deter excessive dryness or oiliness. It is a superb weapon to fight acne with its anti-inflammatory, antibacterial and antiseptic properties as it purifies and soothes the skin, and renews the scarred tissue. As a powerful astringent it is excellent for ageing skin, helps to tighten the epidermis, tautens sagging skin, and reduces the appearance of fine lines and wrinkles, whilst the potent cell regeneration properties protect against the signs of ageing by increasing collagen production, and enhancing elasticity. The antioxidant properties effectively fight the effects of free radicals and deter premature ageing. Geranium oil supports the even distribution of melanin to alleviate dark spots and hyper-pigmention.  This oil helps to strengthen the skin, improve the skin tone and firmness and promote cell regeneration, and is known to reduce the appearance of scars, stretch marks and cellulite. A facial steam with geranium boosts circulation and removes dark circles under the eyes.
Lotus Essential Oil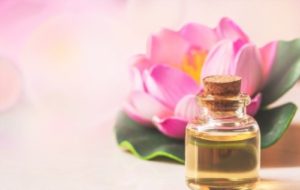 This oil delivers extensive benefits for the skin and is suitable for all skin types. Provides deep hydration to rejuvenate dry, tired or lacklustre skin. An active compound, oligosaccharide, in lotus oil helps to reduce water loss and pulls atmospheric water into the skin. The same compound is also responsible for nourishing healthy bacteria on the skin, thus improving its health. The natural moisturising effects eliminate dry, rough or flaky skin. Lotus extract is particularly effective for skin regeneration and improves skin elasticity, skin collagen and blood circulation, in additional to combating free radical damage.As such, use of this oil can help to prevent premature ageing, and reduce the appearance of existing fine lines and wrinkles by firming and tightening the skin. Lotus oil balances sebum production, purifies the pores, diminishes the appearance of pore size, and remedies inflammatory and bacterial skin conditions including acne, dermatitis and eczema. This oil also has the ability to fade age spots, sun spots and hyperpigmentation. 
Jasmine Essential Oil
Traditionally used to restore skin, increase the skin's elasticity and balance moisture, jasmine oil promotes glowing skin, and is suitable for all skin types, but particularly recommended for dry, irritated and mature skin. A strong antioxidant, combined with its ability to boost the synthesis of collagen, it can help to slow down skin ageing and minimise the appearance of fine lines and wrinkles. Meanwhile, its cicatrizing properties help to remedy blemishes, scars and stretch marks. Jasmine oil is an emollient, and a natural treatment for eczema and dermatitis, as it helps to neutralise bacteria and balance moisture levels, dispelling rough, dry and flaking skin and inflammation. Over time Jasmine will even out the skin tone and reduce discoloration including sun and age spots, and can also reduce the appearance of cellulite. Jasmine oil is perfect to use as a skin primer, or can be added to foundation to provide a natural glow to the face.
Violet Essential Oil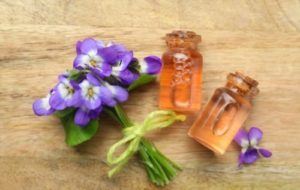 Violet oil is a natural and gentle remedy for the treatment of a number of skin conditions with it's soothing, cooling, antibacterial and antimicrobial properties. It is also an emollient and moisturiser, and is easily and deeply absorbed by the skin to provide intense hydration. Violet oil perfectly calms eczema, dermatitis, rosacea, psoriasis, dryness, itchiness, general redness, and inflammation. Acne is also soothed, with breakouts diminished, pores cleansed, and enlarged pores tightened. Regular use supports the repair of the skin barrier. This gentle oil is particularly recommended for stress related skin disorders. Furthermore, violet oil stimulates blood circulation, and can treat and prevent cellulite and oedemas, in addition to effectively reducing the appearance of thread veins. 
How to use
Essential oils are extremely concentrated and should always be diluted in a suitable carrier oil first, such as jojoba, sweet almond or coconut oil. Alternatively  a few drops can simply be added to your existing skincare products to enhance their effects. Although gentle, it is always advised to make a skin test before using any product as allergens can still be found throughout nature.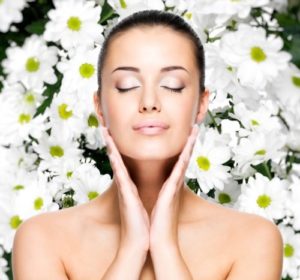 Treat your skin to a bouquet of goodness. Reveal the  naturally glowing and healthy skin you've always wished for, and allow the wonderful aromas soothe your soul.