Beautiful lips are made for a smile. But chapped dry lips don't look very attractive and most people lose confidence when faced with this problem. The lips, unlike the rest of the skin of the body, do not contain sebaceous glands. Consequently, they can become too dry and even crack. You can try to hide this problem by using makeup, but this is not always possible.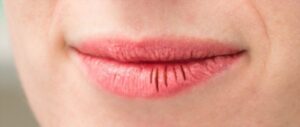 The main causes of lips chapping are:
Improper nutrition, lack of micro and macroelements, deficiency of vitamins A and E. 

Dry air in the room – the "enemy" of our skin.

Using matte lipsticks, which dry out the skin of the lips with frequent use.

Weather. In winter – snow, wind and frost. In summer – heat and sun.

Possible problems with the gastrointestinal tract. For example, increased stomach acidity or dysbiosis.

Allergies. For example, an ingredient within the composition of toothpaste or lipstick.

Insufficient drinking regime. The skin needs hydration not only from the outside, but also from the inside.

The habit of frequently licking lips.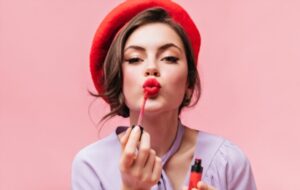 Keep in mind that chapped lip skin is an open gateway for infection. Chapped lips should be treated, preferably using natural remedies. The most suitable solution is to use cold-pressed natural oils for this purpose. Why are natural oils useful?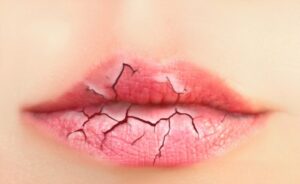 They contain ingredients similar to the composition of sebum, and subsequently penetrate deeply into the skin and allow beneficial substances to penetrate into the deep layers of the epidermis.

They contain polyunsaturated fatty acids omega-3, omega-6, and omega-9, which are powerful antioxidants and intensively nourish the skin.

They contain a unique complex of vitamins A, E, B1, B9, B12, C, PP and minerals (potassium, sodium, zinc, selenium, iron, calcium), which are very useful for the skin of the body, and to the skin of the lips, in particular.
Introducing the 5 most beneficial oils for lip care: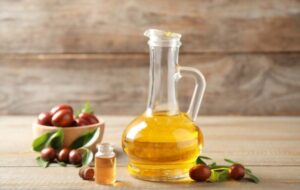 jojoba Oil
Ideal for lip care. It is a liquid wax, similar in composition to sebum, due to which it is able to penetrate into the deep layers of the epidermis. It is quickly absorbed, improves skin regeneration, and increases skin elasticity. By itself, this oil does not moisturise the skin, but creates an invisible breathable film on it, which helps the skin to retain its own moisture and prevents the dermis from drying out, as a result of which the skin acquires a well-groomed and youthful appearance. It reduces flaking and itching, and relieves dry skin. Apply this oil to your lips and leave it on for 10 minutes, it will help your skin look hydrated and well-groomed. 
Coconut Oil
Helps chapped lips heal quickly, reducing sensitivity and inflammation. It contains a large amount of lauric acid, which has a powerful antibacterial effect, and oleic acid, which helps to retain moisture in the skin and restore the barrier functions of the epidermis. This oil promotes deeper penetration of nutrients into the skin structure, helps to retain moisture and strengthens local immunity. Coconut oil is great for dry, sensitive, flaky skin. It perfectly softens and moisturises the delicate skin of the lips.
Massage this oil on your lips 2-3 times a day and it will help you effectively heal chapped lips.
Almond Oil
Perfect for dry, chapped lips. It nourishes and moisturises the skin very well, eliminates inflammation and helps get rid of flaking. It is suitable for all skin types, but is especially beneficial for overly dry, flaky lips. It also protects against adverse environmental influences, so it is useful to apply it on the lips before leaving the house in order to protect against wind, frost and UV rays. Use it 3 times a day, gently massaging your lips
Shea Butter
Intensively moisturises the skin due to the presence of oleic acid in it. Stimulates the synthesis of hyaluronic acid. The presence of vitamins A, E and F contributes to maintaining the health of the epidermis, protects skin cells from adverse environmental conditions and from free radicals, moisturises dry and chapped lip skin and accelerates regeneration. This oil can be applied to the lips overnight. In the morning, wash off with a damp cotton sponge. This treatment will reduce inflammation whilst nourishing and protecting the lips.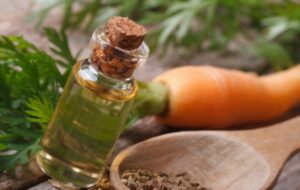 Carrot Oil
Perfectly takes care of dry and sensitive lips. It has nourishing, protective, regenerative and antioxidant properties. Contains beta-carotene (provitamin A) and, when used in pure form or when added to a cream, provides the skin with a healthy look and beautiful complexion. It heals chapped lips and chapped skin very well. It is recommended to apply carrot oil to the lips, lightly massaging, 2 times a day.
The natural oils listed above are not only beneficial to the skin of the lips. When using these oils, massage them lightly onto your face, neck and décolleté. You will get a double effect – soft and delicate lips, and smooth, elastic, youthful and radiant skin! These oils help smooth fine lines and wrinkles, increase collagen production and even out the complexion. Be young, beautiful and smile! Your smile suits you so well!