Our skin has a protective barrier, consisting of dead cells and lipids that stick them together. It protects the epidermis from water loss, from bacteria and microbes, from toxins, from mechanical damage and free radicals. Healthy skin stays firm, elastic and youthful for longer.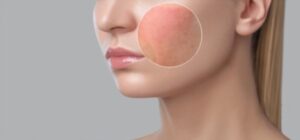 Skin sensitivity is caused by a breakdown of this protective layer, although sometimes sensitivity is a permanent property of the skin, embedded at the genetic level and cannot be treated. But more often than not, skin hypersensitivity is caused by factors that can be influenced.
Since the integrity of the lipid layer is violated, bacteria and allergens penetrate into the dermis. The skin becomes vulnerable to external irritants, loses moisture and its condition deteriorates sharply.
Symptoms of irritated skin include redness, flaking, itching, and other discomfort.
The following factors can cause irritation:
Aggressive skin cleansing and improper care products. Special cosmetics should be selected for each skin type.

Stress and fatigue contribute to the increased production of the hormone cortisol, which in turn inhibits regeneration processes and disrupts the function of the sebaceous glands. Methods for dealing with stress are simple enough, but require a systematic approach. Studies show that meditation, yoga and massage, even 15-20 minutes a day, significantly reduce cortisol levels.

Poor environment makes the skin susceptible to free radical damage, resulting in redness and other aesthetic imperfections. Recommended gentle cleansing of the skin twice a day and products with soothing and protective properties

Food products can cause irritation and a topic dermatitis, provoke aesthetic imperfections with individual intolerance to certain products. It is helpful to keep a diary and write down foods to which your skin reacts with redness and irritation, and eliminate these foods completely from your diet.

Excessively hot water, which washes away the protective layer of fat. And some detergents provoke dryness, itching and irritation of the skin. You should reduce your shower time to 5 minutes and immediately apply moisturizers and nourishing products to damp skin.

Long-term medication can disrupt the microflora of the body and cause dryness, itching and irritation. Use gentle skin care products to smooth out the aggressive effects of medications.

Shaving your skin can also cause irritation. You should not use dull blades, cut off pimples and abscesses, the infection from which can move to other places, use alcohol-based lotions that dry the skin.

The sun, household chemicals, chlorinated water in the pool, and insect bites can be an irritant.
To prevent such negative changes, you need special care for irritated skin, aimed at protecting, restoring, moisturizing and nourishing.
Means that help get rid of irritation should include the following components: plant extracts that relieve redness, soothe inflammation, accelerate regeneration and disinfect, as well as natural and essential oils that increase skin elasticity, nourish, moisturize and activate the natural protective function … The correct remedy should have the following properties:
Anti-inflammatory, to eliminate irritation

Antibacterial, for skin disinfection

Hypoallergenic so that it can be applied to any skin type

Increases the protective function of the skin

Regenerative, for fast skin healing

Moisturizing and nourishing, to saturate the skin with moisture and vitamins
 Natural oils are natural products, organic, without chemical impurities. They contain so many useful vitamins and minerals that they can safely replace all home beauty care for us!
We offer you an overview of the most useful oils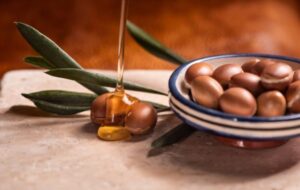 Argan oil
This exotic oil is ideal for daily skin care. Lightweight, moisturizing and healing, this oil improves the appearance and health of your face and body. With regular use, argan oil protects the skin from chapping and dryness, eliminates flaking and a feeling of tightness, moisturizes the skin well and nourishes it with all the necessary nutrients. Thanks to its high content of vitamin E (a natural antioxidant), this oil protects skin cells from free radical damage. Promotes the penetration of nutrients into the deep layers of the skin. Smoothes wrinkles, shrinks pores, removes stretch marks. It has the power to help reduce the signs of acne, reduce acne outbreaks, and provide excellent care for skin suffering from eczema, psoriasis and atopic dermatitis, gradually reducing their symptoms. Argan oil is universal, suitable for all skin types.
Application: Apply to cleansed face and body skin, gently massaging in. Allow to be absorb completely.
Jojoba oil
One of the most versatile skin care products. Essentially a liquid wax, similar in properties to sebum, this oil penetrates deep into the epidermis and creates an invisible breathable film on the surface of the skin that protects the skin from drying out, resulting in a well-groomed and moisturized skin without an oily sheen. Jojoba oil contains a high concentration of vitamin E, which helps skin cells fight free radicals, preventing skin aging and neutralizing the harmful effects of toxins and pollutants on the skin. Although this oil absorbs perfectly into the skin, its waxy nature helps it create a soothing protective layer on the skin. The oil is non-comedogenic and suitable for all skin types.
Application: Apply to cleansed face in the morning and evening.
Almond oil
This oil is suitable for all skin types, even babies, but is more beneficial for dry and even chapped skin. Facial massage with this oil improves blood microcirculation, helps to reduce wrinkles. Almond oil protects the skin well from adverse weather conditions (ultraviolet radiation, frost, wind) and bad environment. Ideal for application on the skin after shaving.
Application: Apply to cleansed face in the morning and evening, or before going outside. If irritation occurs after shaving, apply 2-3 drops of oil to damp skin.
Shea Butter
The unique composition of shea butter (shea butter) revives dry emaciated skin of the face, improves local immunity. Thanks to this, the skin heals, with regular use, diseases such as dermatitis, skin irritations gradually disappear. The complex of oleic, stearic and palmitic acids protects the skin from drying out and dehydration. Shea butter relieves inflammation and irritation, soothes allergies from insect bites, heals small wounds. 
Application: Warm a small amount of oil in your palms and apply to cleansed face and body skin.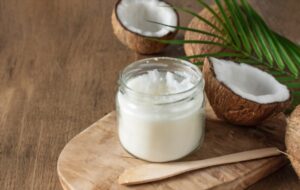 Coconut oil
Coconut oil contains lauric acid, which moisturizes the skin, heals microtraumas, prevents inflammation and relieves irritation. It is excellent for relieving flaking and irritated dry and sensitive skin. Creates a protective barrier on the skin to help retain moisture and protect against sun damage.
Application: Apply a little oil to the irritated area and rub in gently. Repeat the procedure 2-4 times a day until the redness disappears completely.
Black seed oil
Black seed oil is known for its medicinal properties. Due to its unique chemical composition, it helps in the treatment of many diseases. This includes diseases of the respiratory tract, internal organs, bone skeleton and, of course, skin diseases. It is very effective in treating acne, dermatitis, eczema and psoriasis. Since it is extremely powerful, it should not be applied to irritated skin in its pure form. To relieve irritation in problematic and sensitive skin, this oil should be mixed with grape seed oil, jojoba oil or olive oil.
Application: Mix black seed oil with grape seed oil (or jojoba oil or olive oil) in a 1: 2 ratio. Apply to clean skin and leave for 1 hour, then rinse. To relieve swelling, dilute the oil in cool water (15 drops per half a glass of water), moisten a napkin and apply as a compress to the face for 15 minutes.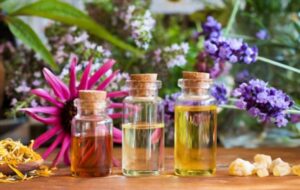 The above oils can be enriched with essential oils to enhance their effect. For this purpose, lavender oil, tea tree oil, and eucalyptus oil are suitable. 3-5 drops of essential oil should be added to 20 ml of base oil.
Lavender oil– ideal for all skin types. It is a very effective disinfectant and anti-inflammatory agent for irritated skin.
Tea tree oil – powerful antifungal and antibacterial agent, one of the most effective skin care products. Quickly cleanses the sebaceous glands, helps to get rid of bacteria. It can be added not only to oil, but also to cream, serum, or other skin care products.
Eucalyptus oil – has antiseptic and anti-inflammatory properties. Contains cineole to help relieve irritation, itching and inflammation.
It is advisable to do a small allergy test before using the oils, apply the oil to the inside of the elbow and leave for several hours. If there is no negative reaction, you can apply. Another tip: do not try a new cosmetic product on the eve of an important event – skin reactions can be unpredictable. 
We hope that with our short review you will find a mild, natural remedy for combating irritations on the skin. Taking care of your skin, you will not only prolong your beauty and health, but also improve the quality of your life.