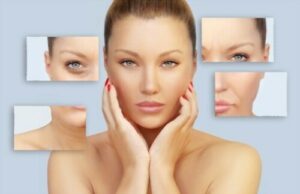 Dermatologists universally agree that by the age of 20 we should have established a proper skin care routine, and that by age 25 that same skin care routine should now include an anti-ageing product. Yes that's correct, it is not a typo – age 25!!! From birth our collagen levels gradually increase, peaking at around the age of 20. This optimum level is maintained for the next few years. However by age 25 we start to lose collagen and it is estimated that we lose 1% of our total collagen every year. Of course everyone is different and this can happen later or even earlier, depending on genetics and external factors such as UV exposure. Taking preventative steps earlier on can benefit your skin in the long run, and help to delay the formation of fine lines and wrinkles and dark spots. As with everything, prevention is always better than cure. 
Avoid extreme sun exposure
Nowadays the adverse affect of sun exposure and ultraviolet rays on the skin is well known. Too much exposure damages our skin cells resulting in early signs of ageing and increasing the risk of skin cancer. Imagine if you were to leave a piece of wooden furniture in the direct sun, totally unprotected, you wouldn't be surprised when it became dry and faded, and aged quicker. Well the exact same is true of your skin, leave it unprotected and you will see the negative impact. The protection afforded by sunscreen was adequately demonstrated in a 2013 study, which showed that adults who wore sunscreen everyday experienced limited to no increase in sun ageing over a four and a half year period.
Give up the nicotine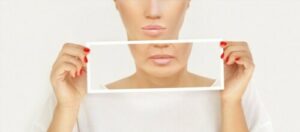 It's been long known that the chemicals in cigarettes destroy collagen and elastin and visibly accelerate the ageing process, making wrinkles more pronounced, in particular around the lips and eyes. Recent studies and research have proven this without a doubt by comparing smoking and non-smoking siblings and twins. Alarmingly the smoker's skin was up to 40% thinner with more accentuated wrinkles. Meanwhile, the comparison between the two identical twins was a real eye-opener, and illustrated without a doubt the effect of smoking on the complexion as the smoker demonstrated deeper wrinkles, more vertical lines around the mouth, a higher number of age spots, and looser skin under the eyes.
Get enough sleep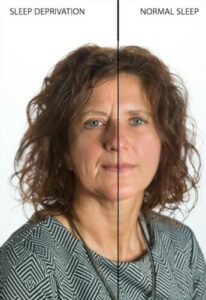 The recommended amount of sleep for adults is 7-9 hours every night. It is during this time that the body repairs damaged cells, and the amount of sleep plays a huge role in how the skin looks the following morning. Sleep deprivation prevents the cells from being adequately repaired overnight and signs of ageing such as fine lines and wrinkles will become more pronounced quicker. Recent research regarding 60 women between the ages of 30 to 49, with approximately half categorised as poor sleepers, with the other half typically having a quality night's sleep, concluded that the sleep deprived women displayed more signs of ageing including fine lines, loose skin, an uneven skin tone, and a dull complexion. Furthermore the study demonstrated that it also took them longer to recover from environmental factors such as sunburn.
The right sleeping position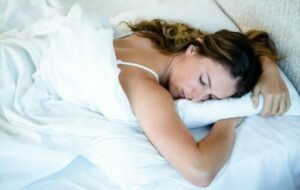 The best sleeping position to protect your skin against unwanted fine lines and wrinkles is laying on your back. Laying on your stomach or side can cause the skin to be stretched and pulled, causing permanent wrinkles on the face as the skin, often referred to as sleep lines. If you find it impossible to sleep in this position, there are some pillows available which can help to keep your head in one position all night. A good quality pillowcase with a high thread count can also help to allay friction which results in these sleep lines.
Keep hydrated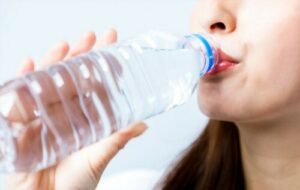 Keeping your body hydrated is crucial for great skin. Your skin needs a certain amount of water to function and if it doesn't get enough, your largest organ on the outside of the body, otherwise known as the skin, will suffer. Water helps to flush harmful toxins from the body and organs, regulates the body's temperature, and in keeping the skin well hydrated can eliminate the appearance of fine lines and wrinkles. A study in 2015 adequately demonstrated that the women with higher water consumption could positively affect their skin's physiology.
Eat a healthy balanced diet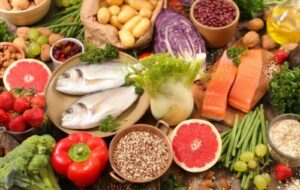 The age-old adage "you are what you eat" is most certainly true regarding your skin. Avoiding processed foods, refined carbs, and sugars definitely promotes a healthier skin. Fatty fish, fruits and veg are well known to benefit health, and also contain many of the minerals and vitamins your skin needs, but what is the best diet for your skin? Try adding in collagen-rich foods (bone broth, dark green vegetables, egg whites, beans, cheese), antioxidant rich foods (sweet potatoes, pumpkins, carrots, tomatoes, grapefruit, leafy greens such as kale and spinach, apricots, sunflower seeds, mangoes), vitamin C (oranges, pineapples, guava, grapefruit, strawberries, red and green peppers), and foods rich in omega-3 fatty acids (fatty fish such as tuna, sardines and salmon, nuts and seeds such as walnuts, chia seeds, flaxseed and pumpkin seeds, natural plant oils such as soybean oil, canola oil and olive oil).  
De-stress and relax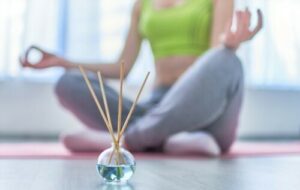 Stress causes elevated levels of cortisol (the fight or flight response hormone) which has an adverse effect on the skin, causing the breakdown of collagen, slowing skin regeneration, increasing skin dehydration, elevating sebum production and triggering inflammation. The result is dry, dull skin, redness, breakouts and more wrinkles and fine lines. You don't just feel stressed, you look it too. Alleviate stress with whatever works for you – yoga, meditation, running, reading,  aromatherapy with relaxing essential oils such as lavender, or a hot relaxing bath (but not too hot as it will strip the skin of it's natural oils).
Introduce natural oils to your skincare regime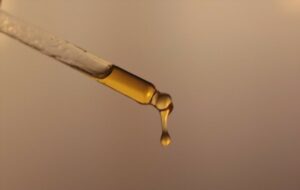 Take care of your skin by introducing natural oils into your beauty regime. Free from harmful chemicals which can have an adverse affect on our health, as well as exacerbate skin problems, they are full of skin-loving natural components and can help to boost collagen and elastin, tone the skin, reduce the appearance of fine lines and wrinkles and recreate some of our youthful glow.  Add one or more of the following into your skincare routine and you'll be amazed by the results:
Anti- Wrinkle Oil
An intrinsic blend of argan oil, jojoba oil, almond oil and wheat germ oil, working in unison, for ultimate skin health and anti-ageing effect, anti-wrinkle oil penetrates deep into the pores to nourish, moisturise and restore skin firmness and elasticity. It has strong antioxidant properties to protect against free radicals. Anti-wrinkle oil helps to stimulate collagen and elastin production, increases skin renewal and regeneration, and smooths out fine lines and wrinkles and protects against the formation of new ones. This oil calms allergic reactions, soothes and heals damaged skin, increases blood circulation, restores tired, flabby skin, and improves a dull complexion.  For healthy, brighter, younger looking skin.
Jojoba Oil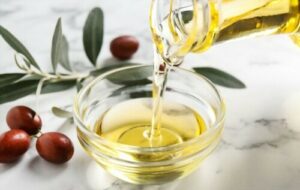 Jojoba oil forms a protective barrier on the skin and is highly suitable for acne, eczema, psoriasis, or any dry, damaged, inflamed skin, as well as mature and oily skin. Similar in structure to our own sebum, it is able to balance sebum production, dissolve sebum in clogged pores, reduce redness and inflammation, prevent infection, promote wound healing and relieve fungal infections. This oil is a strong antioxidant to help fight free radicals and prevent early ageing. It stimulates collagen production, improves the tone, plumpness and elasticity of the skin, and diminishes the appearance of fine lines and wrinkles. 
Argan Oil
Lightweight and quickly absorbed, argan oil softens, nourishes and hydrates the skin. It improves wound healing, regenerates damaged cells, reduces redness and inflammations and alleviates symptoms of skin conditions and infections. Argan oil is very effective for age-related skin changes as it stimulates the natural production of collagen and elastin, increases the skin's firmness and elasticity and reduces the appearance of fine lines, wrinkles and age spots. Daily use significantly increases the skin's elasticity and hydration.
get-the-most-out-of-argan-oil-this-summer Discover why argan oil deserves a place in your beauty regime.
Almond Oil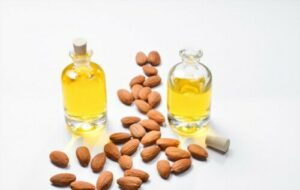 Almond oil restores the skin's natural protective film, stimulates the natural production of collagen and elastin, accelerates skin renewal, repairs skin damage, and normalises the sebaceous glands to balance the oil content in the skin. Perfect for mature skin, almond oil increases elasticity, evens out the skin tone and improves the complexion, plus reduces fine lines, wrinkles and sagging skin. Regular use benefits acne, eczema, psoriasis, dry, damaged and mature skin. Almond oil also prevents the formation of stretch marks during pregnancy, fades stretch marks and post-operative scars, and remedies under eye puffiness and dark circles.
https://nefertiti-eg.com/almond-oil/  See what extra benefits almond oil can give to your skin and hair.
Wheatgerm Oil
Described in Ayurvedic texts as a complexion booster, wheatgerm oil helps to purify the face, balancing sebum production, reducing inflammation and helping to eliminate acne and blemishes with its antiseptic, anti-microbial, anti-bacterial, and anti-inflammatory properties. As an emollient wheatgerm oil seals in moisture, restoring and rejuvenating dry dehydrated skin. It helps to improve blood circulation and assists in tissue growth and repairing tissue damage, relieving allergies, eczema, psoriasis and dermatitis. Wheat germ oil stimulates collagen, increasing elasticity, reducing sagging, and diminishing the appearance of fine lines and wrinkles. It helps to restore damaged or broken skin, and can reduce scarring and even the skin tone, regulating pigmentation. This panacea is a remedy for dark circles under the eyes, and can restore dry, cracked or chapped lips. Wheat germ oil absorbs slowly but deeply, restoring the skin's protective barrier and supporting a healthy, glowing, more youthful and blemish-free complexion.
 wheat-germ-oil-your-saviour-for-all-seasons/  Discover how wheatgerm oil can boost skin and hair health, whatever the season.
Grapeseed Oil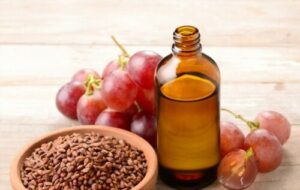 Grapeseed oil fortifies the skin's barrier, prevents moisture loss, and soothes and softens the skin. Deeply cleansing the skin, it removes sebum blocked in pores, reduces inflammation, accelerates the repair of damaged skin, and is highly beneficial for the treatment of acne, dermatitis and eczema, and for combating ageing skin. This nourishing oil promotes collagen repair and protects against sun damage to reduce premature ageing and also reverse existing damage. It also helps to diminish hyperpigmentation and the appearance of scars, varicose veins, spider veins, cellulite and stretch marks.
Lupine Oil
Sometimes referred to as the "elixir of youth", lupine oil brightens and lightens the skin, eliminates age spots, age-related pigmentation and freckles, and evens out the complexion. It soothes skin inflammation and irritated skin and removes traces of acne. Lupine oil penetrates deep into the layers of the epidermis, nourishing and improving blood circulation. It moisturises and restores the skin's barrier, promotes rapid healing, protects the skin from harmful environmental influences and acts as an ultraviolet filter. Lupine oil stimulates the production of collagen and elastin, and helps the skin to retain its elasticity and tightens existing wrinkles.
The best time of day to apply facial oils is as an overnight treatment. Apply to the cleansed skin of the face, neck and décolleté, or use as a facial massage oil. For dry skin you can also use as a daytime moisturiser, or as a make-up base (apply to skin and wipe off any excess after 10 minutes). Alternatively you can add a few drops of oil to your favourite skincare products to utilise its benefits.
Whilst genetics certainly play a role in how your skin ages, we can certainly influence certain factors.  Ageing is a natural process and inevitable since we can't stop the sands of time but, with the right care, we can help to slow its progress. Look after your skin and, rather like a fine wine, you can mature beautifully and majestically.