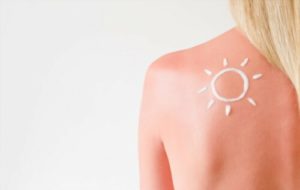 So summer is in full swing, the heat is up, and it's time to treat ourselves to some pampering natural DIY home treatments. We may refer to summer as the lazy, hazy days, but in reality our body is working in overdrive to keep us cool and fully functioning, and none more so than the body's largest organ – the skin.
Using synthetics on our skin is never a good idea, and should particularly be avoided during these hotter months when the skin is likely to be more sensitive and reactive. But who needs synthetic products anyway when Nature has supplied us with an abundance of natural botanics to provide a little pampering where needed?
And that's the beauty of DIY recipes, you know exactly what's in them – no unhealthy synthetic chemicals and allergens hiding away, and whatsmore you can taylor them to your exact needs, rather than a 'one size, fits all" approach.
Soften & Clean Your Skin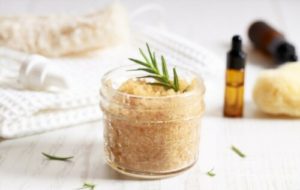 It's important to protect your skin with a good sunscreen to protect against damaging UV rays, but many of these sunscreens are heavy and clogging to the pores, so it's wise to remove all trace from the skin with a skin-softening sugar scrub which will gently exfoliate, smooth and polish the skin. Note that sugar is a natural humectant which will help to attract and retain moisture.
Recipe:
¼ cup brown sugar
¾ cup raw sugar
4 tablespoons of argan oil
2 tablespoons of jojoba oil
10-15 drops of essential oil of your choice.  
Method:
Mix the oils first, blending the essential and carrier oils together. Next, add the sugars and mix until they are moist. Store in a glass jar.
How to use:
Wash your skin with soap or body wash and rinse. Scoop some body scrub out (be careful not to get water into the jar), and apply generously to wet skin. Massage into the skin in a circular motion. The coarse raw sugar will exfoliate, removing dead skin cells and dirt, whilst the brown sugar will gently polish the skin, leaving it soft and supple to the touch. Rinse well and pat the skin dry.
Replenish Lost Moisture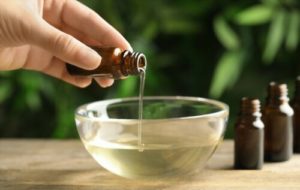 Healthy, smooth and hydrated skin is the best make-up. Create your own face and body moisturiser with a carrier oil and then add in some essential oils based on your specific needs. Try argan oil, which is extremely lightweight and fully absorbs into the skin without leaving a sticky residue to impart a host of benefits, which include boosting the skin barrier, protecting against pollutants and radiation, sealing in moisture and providing long-lasting water retention, removing excess sebum and balancing sebum production, restoring elasticity, and soothing dry, flaky skin.  Since argan oil brightens the skin and gives it a natural glow and radiance, it'll be easier to reduce or even forego the amount of makeup you wear. 
Recipe:
30 ml argan oil or carrier oil of your choice.
8-12 drops of essential oil
Method:
Mix oils together and blend well. Store in a dark glass bottle in a cool place.
How to use:
Massage into the face/body morning and evening, and as required.
Revitalise & Protect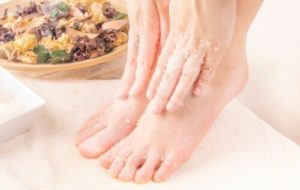 Your feet are never more on display than in the summer – open footwear during the day and barefoot at the beach and pool. They may not be looking their best either after being stuck inside throughout winter and spring. Plus the summer weather is drying on them, and open shoes and going barefoot introduces them to a multitude of bacteria too. 
Try this incredible foot scrub to eliminate dry skin, detox, deodorise and moisturise, and have your feet in tip-top condition.
Recipe:
1 cup sugar
½ cup epsom salt
½ cup baking soda
½ cup coconut oil
Essential oils: 15 drops Chamomile Essential Oil, 10 drops Lemongrass Essential Oil, 5 drops Lavender Essential Oil.
Method:
Mix together the dry ingredients in a bowl, and in another bowl mix the oils and stir well. Add the oil to the dry ingredients and mix well. Store in a glass jar.
How to use:
Soak the feet for a minimum of 10 minutes in warm water to soften them, or use after a bath. Massage the scrub into the heels and other rough or dry areas of the feet and toes. The grittiness of the scrub will polish the rough skin, whilst the oil will diminish dryness. Repeat as needed. Rinse the feet well and pat dry. Put on a pair of cotton socks to help the feet to absorb any excess oil, and protect against slipping. For best results do just before you go to bed, as the lavender will also help to relax you and encourage a great night's sleep.
Refresh and protect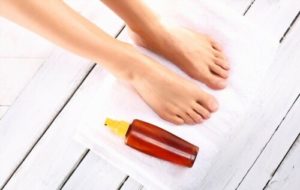 To refresh and protect your feet, try this refreshing oil rub on feet, toes and nails. The peppermint helps to cool and refresh the feet (and the entire body since the feet help to control temperature throughout the body), and the tea tree oil protects against bacteria and fungal infections, and accelerates healing on any cracks, blisters or abrasions.
Recipe:
60ml argan oil
7 drops tea tree oil
4 drops peppermint oil
Method:
Blend the oils well together in a dark glass bottle. Store in a cool place.
How to use:
Massage into the feet, toes and nails. Remove any excess oil after 5 minutes, or don a pair of cotton socks or terry-towelling slippers.
Need some help choosing the best essential oils for your DIY skin mixes? Let us help. Here's 8 skin loving essential oils:
Suitable for all skin types but especially recommended for dry and sensitive skin, chamomile essential oil calms skin inflammation, irritation and redness. It provides effective relief for general inflammation and skin disorders such as acne, eczema, dermatitis and rosacea. Chamomile essential oil has been shown to significantly increase healing and antibacterial activity, and promotes the regeneration of damaged tissues from the inside out, and improves the skin's barrier. Use of this oil accelerates cell and tissue regeneration, reducing the appearance of fine lines and wrinkles, and diminishing the appearance of scars, dark spots and pigmentation.
Suitable for all skin types, eucalyptus oil is particularly effective on dry, damaged and irritated skin. It has cooling properties and soothes skin irritation and inflammation, relieves contact dermatitis, eczema, acne, and eases the symptoms of psoriasis. Also helps to combat and heal skin conditions and fungal infections. Use of this oil effectively reduces levels of the enzyme COX-2 which the body produces a surplus of during an eczema flare-up. Relieves acne by neutralising P. acne bacteria and helping to reduce sebum production. Eucalyptus oil is an excellent remedy to counteract dry skin. It intensely hydrates and boosts the skin's ceramide production, a fatty acid which increases the skin's moisture-retaining capabilities, and reinforces the skin's barrier protection. Also helps to lighten dark spots. 
Ideal for repairing damaged skin, frankincense essential oil is anti-inflammatory and antibacterial with sebum balancing and wound healing properties to resolve acne, eczema and general inflammation. Its moisturising properties help to dispel dry, flaky skin. Frankincense essential oil reduces the appearance of hyperpigmentation. The use of this oil will stimulate cell renewal, improve elasticity and plump the skin, helping the skin to retain a youthful look.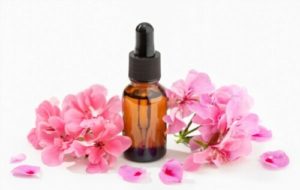 Suitable for all skin types, geranium oil is especially recommended for mature and dry skin. It balances the pH and oil levels of the skin and regulates sebum production, rebalancing moisture levels of the skin and addressing excess oil or dryness. Helps to treat ailments such as eczema, dermatitis, psoriasis, and excessive oil. Fights acne, purifying and soothing the skin, and renewing the scarred tissue. Tightens the epidermis to diminish the appearance of fine lines and wrinkles, and tauten sagging skin. It also reduces skin ageing, and has potent cell regeneration properties, increases collagen production, enhances elasticity, reviving the skin tone, and maintaining softness and smoothness. Helps to distribute melanin evenly, thereby balancing out dark spots and pigmentation. 
Lavender Essential Oil
A gentle remedy for skin ailments, lavender essential oil is perfect for all skin types. It has anti-inflammatory, analgesic, antibacterial, astringent, moisturising, cleansing, and skin healing properties, allowing it to reduce inflammation and itching, and ease eczema, psoriasis, acne and general inflammation. It soothes and calms irritation such as sunburn, shaving burn/rash, heat rash and insect bites and stings, and accelerates wound healing. Lavender essential oil also reduces the appearance of fine lines and wrinkles and evens the skin tone. 
Suitable for all skin types, rose essential oil enhances blood circulation and increases the skin's permeability. In the case of damaged or ageing skin, it strengthens and stimulates skin cells, promotes collagen production, and enhances skin regeneration. Rose essential oil helps with conditions such as acne, eczema, rosacea, psoriasis, rashes and infections, rehydrates dry skin and reduces signs of ageing. It is an excellent cleanser and astringent. Acne sufferers will benefit from using this oil as it will balance sebum production and destroy the acne causing bacteria "propionibacterium acnes". Rose essential oil can also help to remove dark circles under the eyes to brighten the whole appearance.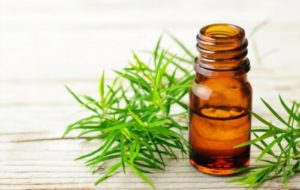 Particularly suited for oily skin, tea tree oil helps to combat and heal skin conditions, and soothes skin irritation and inflammation. It relieves contact dermatitis, eczema, insect bites, shaving rash, and prickly heat, and eases the symptoms of psoriasis. Tea tree essential oil deeply cleanses, tones, and purifies the pores, and helps to regulate sebum to balance an oily or dry skin. Its antimicrobial properties make it highly effective against acne and breakouts. Use tea tree oil to restore the complexion, and reduce the occurrence of dark spots.
Beneficial for all skin types, but particularly good for mature skin, ylang ylang essential oil balances sebum production to prevent excessive dryness or oiliness. It soothes and remedies inflammatory and bacterial skin conditions including acne, dermatitis and eczema. Ylang ylang essential oil prevents and alleviates premature ageing. It stimulates cell regeneration, smooths and tones the skin, and improves the skin's firmness and elasticity.
Which blend will you create to indulge your skin with some special TLC from natural botanicals during the heat of summer? Mix and match as you like – the choice is entirely yours. 
With a little pampering you can enjoy the summer without compromising the health of your skin.