Steaming is an excellent way to take your skincare regime up a notch for the summer. Although facial steaming would be a welcome addition to a beauty regime at any time, it is particularly beneficial during the summer months. Warmer weather means that the pores are generally more open, and thus have an increased likelihood of becoming blocked with dirt, excess sebum and sweat. The benefits of steam baths, such as the traditional oriental hammam, have long been known for their cleansing and relaxation effect, and it's easy to apply this effect just to the face at home. 
Facial steaming ensures beautification of the skin, a clear complexion and a healthy glow. What more could you want for the summer? Get a natural healthy glow and minimise or totally forego heavy foundations and concealers.  And the really good news? It costs practically nothing. 
So how does a facial steam help? Here's some of the benefits:
Hydrates and Softens the Skin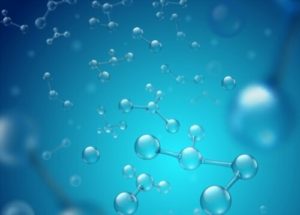 Many people don't drink enough water, particularly during the warmer weather, and this can manifest itself on the skin as flaky, itchy or sensitive areas. Fine lines and wrinkles are accentuated, and the skin looks dull, perhaps with dark undereye circles. Hot weather increases water loss from the body and increases the risk of dehydrated skin. Moisturisers are able to address the problem of dry skin, a skin type where the skin lacks oil and sebum,  but do not remedy dehydrated skin which is a skin condition. Facial steaming allows the skin to absorb the water that it needs to remain hydrated, plump and healthy looking. 
Promotes Better Product Absorption
Hydrating the skin makes the skin more permeable and allows better absorption of active ingredients applied topically directly after steaming, and subsequently increases their effectiveness. As such, this is a good time to avoid harsh synthetic products and utilise the potent natural components found in natural oils, such as carrot seed oil (high in retinol plus vitamins A,B,C,D,E and essential fatty acids) mixed with either grapeseed oil or wheatgerm oil (both extremely rich in vitamin E). Aloe vera is another great choice, naturally hydrating and moisturising the skin, and containing approximately 75 biologically active substances, including 20 of the 22 required amino acids, and 7 of the 8 essential amino acids 
Promotes Circulation
The heat from facial steaming opens the pores, increases perspiration and subsequently dilates the blood vessels which increases circulation, thus nourishing the skin, delivering oxygen and giving the skin a healthy glow.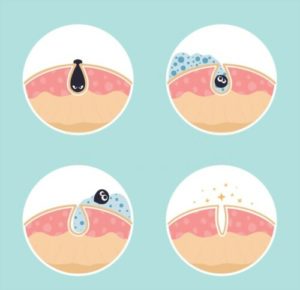 Cleanses the Skin and Unclogs Pores
 Facial steaming opens the pores, helping to loosen oil, dirt, sweat and bacteria which is clogging the pores, and providing a deep cleansing effect. Steaming after cleansing allows any anti-acne skincare product (or essential oil) to penetrate deeper and zap those spots before they emerge.
Helps Build Collagen and Elastin
The increased circulation that you promote during a facial steam promotes the production of collagen and elastin, leading to a smoother, firmer and younger looking appearance
Gentle Exfoliation
Steaming acts as a natural exfoliator to eliminate the build-up of dead skin cells which results in dull and tired looking skin, and overtime contributes to the appearance of fine lines and wrinkles. By revealing the fresh skin underneath, the skin takes on a natural glow and a more youthful appearance.  
Thoroughly Removes all Traces of Makeup
If you wear a lot of makeup on a daily basis, steaming can help to clear any trace of makeup which may be trapped in the pores which a general cleansing routine may not remove, and which could eventually harbour bacteria and lead to an infection and breakout.
Heals Breakouts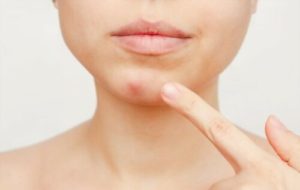 You can always guarantee that just before that special event a spot makes an unwanted and ill-timed appearance. Steaming can help to eliminate that spot and it won't leave any infection or trace. Simply steam your face for four minutes, gently pat dry, wait 30 minutes, and then rub an ice cube over the affected area for five minutes to reduce the redness, calm the inflammation and draw out any infection. 
Calms and Soothes
In addition to the benefits to the skin, a facial steam is a relaxing experience. Take it to the next level by adding some essential aroma oils into the mix. 
How to Steam
There are two methods which can be used to steam the face at home:
Option 1: Steam with warm towels.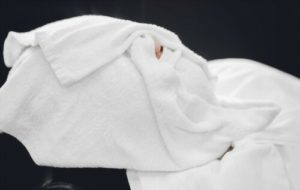 Immerse a hand towel in a bowl of hot (not boiling water).
Secure your hair off your face,  remove makeup and cleanse the face and neck. Almond oil or coconut oil will do both. Optional – use a gentle natural exfoliator.
Wring out the towel so that it is just damp.
Lie down or recline back in a comfortable chair and lay the warm towel over your face, ideally keeping the nostrils clear. Keep eyes closed to avoid irritation. Relax for 5-10minutes.
Option 2: To steam over a bowl or sink of hot water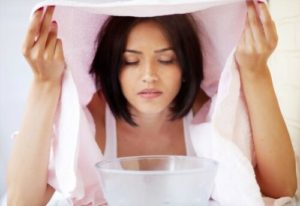 Secure your hair off your face, remove makeup and cleanse the face and neck. Almond oil or coconut oil will do both. Optional – use a gentle natural exfoliator.
Boil some water and fill a bowl.
Sit at a table with a chair that is the correct height for the table, and place the bowl in front of you.
Drape a towel over your head and bowl. Hold your face 8-12 inches above the water (whichever is most comfortable for you). Steam for 5-10 minutes. Keep eyes closed to avoid irritation/sensitivity. Lift a corner of the towel if you need to cool off during this time.
Next step:
Rinse with lukewarm water and pat dry.
Apply a moisturising cream, serum or oil. Since any product will be enhanced, use something that nourishes the skin, preferably a natural product to avoid deeper absorption of harsh chemicals. Natural oils are full of skin-loving natural compounds which can greatly benefit the skin.
End your relaxing steam session with a gentle face massage to further enhance product penetration, circulation and relax the facial muscles. Using your fingers, gently apply upward strokes on the forehead, cheeks and throat.
Enhance the experience with essential aroma oils
Essential aroma oils have a plethora of benefits for the skin, being known to support elastin and collagen development, combat harmful pathogens, and nourish and rejuvinate the skin, in addition to their positive impact on our emotions. Add a few drops of your favourite oil, or one suited to your skin-type, to enhance your facial steam. With option one, the oil can be added to the water before the towel is added. With option two, since essential oils break down in high temperatures, it is recommended to just add a few drops to the towel being placed over the bowl and head, where the aroma will be absorbed into the steam. Furthermore, they can also be added to the moisturiser, serum or oil being applied topically after the steam.
The following are popular choices to be incorporated into a facial steam:
Rose Essential Oil
Enhances blood circulation and increases the skin's permeability. Strengthens and stimulates skin cells, promotes collagen production, and enhances skin regeneration in the case of damaged or ageing skin. Helps with conditions such as eczema, rosacea, psoriasis, rashes and infections. Rehydrates dry skin, clears acne, and reduces signs of ageing. A great cleanser and astringent. Diminishes and protects against acne, balances sebum production and destroys the acne causing bacteria "propionibacterium acnes". Can also help to remove dark circles under the eyes to brighten the whole appearance. 
Tea Tree Essential Oil
Helps to combat and heal skin conditions, and soothes skin irritation and inflammation. Relieves contact dermatitis, eczema, insect bites, shaving rash, and prickly heat, and eases the symptoms of psoriasis. Deeply cleanses, tones, and purifies the pores, and helps to regulate sebum to balance an oily or dry skin. Its antimicrobial properties make it highly effective against acne and breakouts. Restores the complexion, and reduces the occurrence of dark spots.
Geranium Essential Oil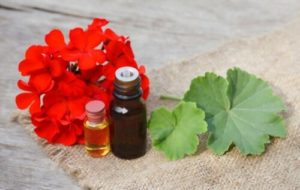 Balances pH level of the skin and regulates sebum production. Rebalances the oil and moisture levels of the skin, addressing excess oil or dryness. Helps to treat ailments such as eczema, dermatitis, psoriasis, excessive oil and acne. Fights acne, purifying and soothing the skin, and renewing the scarred tissue. Tightens the epidermis to diminish the appearance of fine lines and wrinkles, and tauten sagging skin. It also reduces skin ageing, and has potent cell regeneration properties, increases collagen production, enhances elasticity, reviving the skin tone, and maintaining softness and smoothness. Helps to distribute melanin evenly, thereby balancing out dark spots and pigmentation. Extremely effective when used in a steam treatment to reduce dark circles under the eyes.
Clove Bud Essential Oil
Cleanses the pores of impurities, kills the acne killing bacteria S. aureus, and addresses pain and inflammation, to treat and deter acne. Promotes an even skin tone. Acts as an exfoliant, and reduces the appearance of scars, blemishes and pigmentation. Has a tightening effect to reduce sagging skin, and reduces the appearance of fine lines and wrinkles.
Eucalyptus Essential Oil
Soothes skin irritation and inflammation. Relieves contact dermatitis, eczema, and eases the symptoms of psoriasis. Helps to combat and heal skin conditions and fungal infections. Effectively reduces levels of the enzyme COX-2 which the body produces a surplus of during an eczema flare-up. Relieves acne by neutralising P. acne bacteria and helping to reduce sebum production. Counteracts dry skin. Intensely hydrates and boosts the skin's ceramide production, a fatty acid which increases the skin's moisture-retaining capabilities, and reinforces the skin's barrier protection. Helps to lighten dark spots. 
Lemongrass Essential Oil
Has strong antimicrobial and astringent properties, and helps to achieve a glowing, even complexion. Cleanses the pores, removes impurities, tightens and tones the skin, strengthens the skin tissue, and reduces acne and redness. 
Chamomile Essential Oil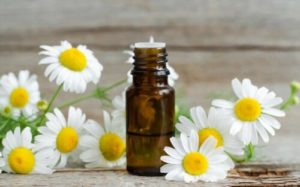 Calms skin inflammation, irritation and redness. Effective relief for general inflammation and skin disorders such as acne, eczema, dermatitis and rosacea. Shown to significantly increase healing and antibacterial activity, and promotes the regeneration of damaged tissues from the inside out, and improves the skin's barrier. Accelerates cell and tissue regeneration, reducing the appearance of fine lines and wrinkles. Diminishes the appearance of scars, dark spots and pigmentation.
Sandalwood Essential Oil
Improves skin tone, promotes recovery and rejuvenation, and tightens the skin. Regulates sebum production, dries up oily acne-prone skin, helps reduce rashes and skin inflammation. Moisturises dry skin.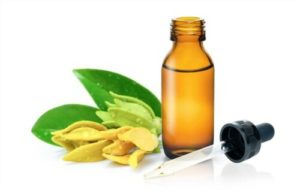 Ylang Ylang Essential Oil
Balances oil production to prevent excessive dryness or oiliness. Soothes and remedies inflammatory and bacterial skin conditions including acne, dermatitis and eczema. Prevents and alleviates premature ageing. Stimulates cell regeneration, smooths and tones the skin, improves the skin's firmness and elasticity.
Frankincense Essential Oil
Sebum balancing, anti-inflammatory and antibacterial to resolve acne, eczema and general inflammation, plus promotes healing. Moisturising to dispel dry, flaky skin. Reduces hyperpigmentation. Stimulates cells renewal and improves elasticity, plumps the skin and keeps skin looking youthful.
How often to steam
For best results steam your face once a week. Do not use on sunburnt skin.  
Stay hydrated
For healthy skin it's important to stay hydrated inside and out. Ensure that you drink approximately 2 litres (8 glasses) of water a day,  and compensate on extra hot days or after vigorous exercise when fluid is lost through excessive sweat . Drinking water also helps to flush out toxins and impurities.
Make time for yourself and vamp up your beauty routine with a weekly facial steam. Relax as you pamper your skin, and obtain the clear complexion and healthy glow you've always dreamed of.